Roll over image to zoom in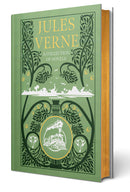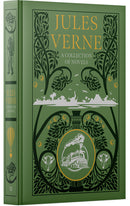 Embark on a thrilling journey through the boundless imagination of Jules Verne with this meticulously crafted leather-bound collection. Within the pages of this exquisite volume, you will discover some of the most iconic and adventurous tales ever penned, such as "Twenty Thousand Leagues Under the Sea," "Journey to the Center of the Earth," and "Around the World in Eighty Days."
Jules Verne's visionary narratives have taken generations of readers on explorations of the unknown, from the depths of the ocean to the far reaches of outer space. His tales of exploration and discovery, brimming with scientific curiosity and daring adventure, continue to captivate the hearts of readers young and old.
Bound in fine leather and graced with intricate embossing, gilded edges, and a ribbon marker, this edition is a true collector's item, a centerpiece for any library or the perfect gift for lovers of classic literature and adventure. Immerse yourself in the remarkable world of Jules Verne and his unforgettable characters, and set sail on a literary adventure that will transport you to uncharted realms. Whether you are a seasoned Verne enthusiast or just setting foot on the path of adventure, this leather-bound collection is a timeless gateway to the boundless creativity of one of literature's greatest visionaries.
Payment & Security
Payment methods
Your payment information is processed securely. We do not store credit card details nor have access to your credit card information.
---
Security