Roll over image to zoom in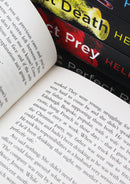 Titles In this Set:
Perfect Remains:
Perfect Prey:
Perfect Death:
Perfect Silence:
Perfect Crime:
Perfect Remains:
Detective Inspector Luc Callanach has barely set foot in his new office when Elaine's missing persons case is escalated to a murder investigation. Having left behind a promising career at Interpol, he's eager to prove himself to his new team. But Edinburgh, he discovers, is a long way from Lyon, and Elaine's killer has covered his tracks with meticulous care.

Perfect Prey:
In the middle of a rock festival, a charity worker is sliced across the stomach. He dies minutes later. In a crowd of thousands, no one saw his attacker.The following week, the body of a primary school teacher is found in a dumpster in an Edinburgh alley, strangled with her own woollen scarf.

Perfect Death:
Unknown to DI Luc Callanach and the newly promoted DCI Ava Turner, a serial killer has Edinburgh firmly in his grip. The killer is taking his victims in the coldest, most calculating way possible – engineering slow and painful deaths by poison, with his victims entirely unaware of the drugs flooding their bloodstream until it's too late.

Perfect Silence:
The body of a young girl is found dumped on the roadside on the outskirts of Edinburgh. When pathologists examine the remains, they make a gruesome discovery: the silhouette of a doll carved in the victim's skin.

Perfect Crime:
As they dig deeper, more would-be suicides roll in: a woman found dead in a bath; a man violently electrocuted. But these are carefully curated deaths – nothing like the impulsive suicide attempts they've been made out to be.
Payment & Security
Payment methods
Your payment information is processed securely. We do not store credit card details nor have access to your credit card information.
---
Security