Roll over image to zoom in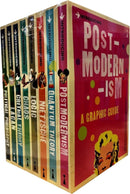 Titles in the Set
Logic
Chaos
Lacan
Postmodernism
Quantum Theory
Nietzsche
Critical Theory
Political Philosophy
Description
Logic
Logic is the backbone of Western civilization, holding together its systems of philosophy, science and law. Yet despite logic's widely acknowledged importance, it remains an unbroken seal for many, due to its heavy use of jargon and mathematical symbolism.This book follows the historical development of logic, explains the symbols and methods involved and explores the philosophical issues surrounding the topic in an easy-to-follow and friendly manner. It will take you through the influence of logic on scientific method and the various sciences from physics to psychology, and will show you why computers and digital technology are just another case of logic in action.
Chaos
"Introducing Chaos" explains how chaos makes its presence felt in many varieties of event, from the fluctuation of animal populations to the ups and downs of the stock market. It also examines the roots of chaos in modern mathematics and physics, and explores the relationship between chaos and complexity, the new unifying theory which suggests that all complex systems evolve from a few simple rules.This is an accessible introduction to an astonishing and controversial theory that could dramatically change our view of the natural world and our place in a turbulent universe.
Lacan
Jacques Lacan is now regarded as a major psychoanalytical theorist alongside Freud and Jung, although recognition has been delayed by fierce arguments over his ideas. Written by a leading Lacanian analyst, "Introducing Lacan" guides the reader through his innovations, including his work on paranoia, his addition of structural linguistics to Freudianism and his ideas on the infant 'mirror phase'. It also traces Lacan's influence in postmodern critical thinking on art, literature, philosophy and feminism. This is the ideal introduction for anyone intrigued by Lacan's ideas but discouraged by the complexity of his writings.
Postmodernism
What connects Marliyn Monroe, Disneyworld, "The Satanic Verses" and cyber space? Answer: Postmodernism. But what exactly is postmodernism? This graphic guide explains clearly the maddeningly enigmatic concept that has been used to define the world's cultural condition over the last three decades. "Introducing Postmodernism" tracks the idea back to its roots by taking a tour of some of the most extreme and exhilarating events, people and thought of the last 100 years: in art - constructivism, conceptual art, Marcel Duchamp, Jackson Pollock and Andy Warhol; in politics and history - McCarthy's witch-hunts, feminism, Francis Fukuyama and the Holocaust; in philosophy - the work of Derrida, Baudrillard, Foucault and Heidegger. The book also explores postmodernism's take on today, and the anxious grip of globalisation, unpredictable terrorism and unforeseen war that greeted the dawn of the 21st century. Regularly controversial, rarely straightforward and seldom easy, postmodernism is nonetheless a thrilling intellectual adventure. "Introducing Postmodernism" is the ideal guide.
Quantum Theory
Quantum theory confronts us with bizarre paradoxes which contradict the logic of classical physics. At the subatomic level, one particle seems to know what the others are doing, and according to Heisenberg's "uncertainty principle", there is a limit on how accurately nature can be observed. And yet the theory is amazingly accurate and widely applied, explaining all of chemistry and most of physics. "Introducing Quantum Theory" takes us on a step-by-step tour with the key figures, including Planck, Einstein, Bohr, Heisenberg and Schrodinger. Each contributed at least one crucial concept to the theory. The puzzle of the wave-particle duality is here, along with descriptions of the two questions raised against Bohr's "Copenhagen Interpretation" - the famous "dead and alive cat" and the EPR paradox. Both remain unresolved.
Nietzsche
Why must we believe that God is dead? Can we accept that traditional morality is just a 'useful mistake'? Did the principle of 'the will to power' lead to the Holocaust? What are the limitations of scientific knowledge? Is human evolution complete or only beginning? It is difficult to overestimate the importance of Friedrich Nietzsche for our present epoch. His extraordinary insights into human psychology, morality, religion and power seem quite clairvoyant today: existentialism, psychoanalysis, semiotics and postmodernism are plainly anticipated in his writings - which are famously enigmatic and often contradictory."Introducing Nietzsche" is the perfect guide to this exhilarating and oft-misunderstood philosopher.
Critical Theory
What might a 'theory of everything' look like? Is science an ideology? Who were Adorno, Horkheimer or the Frankfurt School? The decades since the 1960s have seen an explosion in the production of critical theories. Deconstructionists, poststructuralists, postmodernists, second-wave feminists, new historicists, cultural materialists, postcolonialists, black critics and queer theorists, among a host of others, all vie for our attention. Stuart Sim and Borin Van Loon's incisive graphic guide provides a route through the tangled jungle of competing ideas and provides an essential historical context, situating these theories within tradition of critical analysis going back to the rise of Marxism. They present the essential methods and objectives of each theoretical school in an incisive and accessible manner, and pay special attention to recurrent themes and concerns that have preoccupied a century of critical theoretical activity.
Political Philosophy
Essential illustrated guide to key ideas of political thought. Philosophers have always asked fundamental and disturbing questions about politics. Plato and Aristotle debated the merits of democracy. The origins of society, the state and government authority were issues addressed by Hobbes, Rousseau, Hegel, Marx and many other philosophers. Introducing Political Philosophy explains the central concepts of this intriguing branch of philosophy and presents the major political theorists from Plato to Foucault. How did governments get started? Why should they be obeyed? Could we live without them? How much power should they have? Is freedom a right? Which is the best form of government? In the wake of consumerism and postmodernism, our need for a better grasp of political ideas is greater than ever. Dave Robinson's account of this complex subject is always clear, informative and accompanied by the entertainingly inventive illustrations of Judy Groves
Payment & Security
Payment methods
Your payment information is processed securely. We do not store credit card details nor have access to your credit card information.
---
Security