Roll over image to zoom in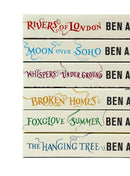 Titles in the Set

Rivers of London
Moon Over Soho
Whispers Under Ground
Broken Homes
Foxglove Summer
The Hanging Tree
Description
Rivers of London
My name is Peter Grant and until January I was just probationary constable in that mighty army for justice known to all right-thinking people as the Metropolitan Police Service (and as the Filth to everybody else). My only concerns in life were how to avoid a transfer to the Case Progression Unit - we do paperwork so real coppers don't have to - and finding a way to climb into the panties of the outrageously perky WPC Leslie May. Then one night, in pursuance of a murder inquiry, I tried to take a witness statement from someone who was dead but disturbingly voluable, and that brought me to the attention of Inspector Nightingale, the last wizard in England. Now I'm a Detective Constable and a trainee wizard, the first apprentice in fifty years, and my world has become somewhat more complicated: nests of vampires in Purley, negotiating a truce between the warring god and goddess of the Thames, and digging up graves in Covent Garden ... and there's something festering at the heart of the city I love, a malicious vengeful spirit that takes ordinary Londoners and twists them into grotesque mannequins to act out its drama of violence and despair.The spirit of riot and rebellion has awakened in the city, and it's falling to me to bring order out of chaos - or die trying.
Moon Over Soho
The song. That's what London constable and sorcerer's apprentice Peter Grant first notices when he examines the corpse of Cyrus Wilkins, part-time jazz drummer and full-time accountant, who dropped dead of a heart attack while playing a gig at Soho's 606 Club. The notes of the old jazz standard are rising from the bodya sure sign that something about the man's death was not at all natural but instead supernatural. Body and soulaothey're also what Peter will risk as he investigates a pattern of similar deaths in and around Soho. With the help of his superior officer, Detective Chief Inspector Thomas Nightingale, the last registered wizard in England, and the assistance of beautiful jazz aficionado Simone Fitzwilliam, Peter will uncover a deadly magical mena one that leads right to his own doorstep and to the squandered promise of a young jazz musician: a talented trumpet player named Richard "Lord" Granta otherwise known as Peter's dear old dad.
Whispers Under Ground
Doctor Who Screenwriter Ben Aaronovitch's superbly entertaining supernatural crime series has, with its witty one-liners and wonderfully erudite take on London, won a legion of fans in double quick time. Peter Grant is learning magic fast. And it's just as well - he's already had run-ins with the deadly supernatural children of the Thames and a terrifying killer in Soho. Progression in the Police Force is less easy. Especially when you work in a department of two. A department that doesn't even officially exist. A department that if you did describe it to most people would get you laughed at. And then there's his love life. The last person he fell for ended up seriously dead. It wasn't his fault, but still. Now something horrible is happening in the labyrinth of tunnels that make up the tube system that honeycombs the ancient foundations of London. And delays on the Northern line is the very least of it. Time to call in the Met's Economic and Specialist Crime Unit 9, aka 'The Folly'. Time to call in PC Peter Grant, Britain's Last Wizard
Broken Homes
Ben Aaronovitch has stormed the bestseller list with his superb London crime series. A unique blend of police procedural, loving detail about the greatest character of all, London, and a dash of the supernatural. A mutilated body in Crawley. Another killer on the loose. The prime suspect is one Robert Weil - an associate of the twisted magician known as the Faceless Man? Or just a common garden serial killer? Before PC Peter Grant can get his head round the case, a town planner going under a tube train and a stolen grimoire are adding to his case-load. So far so London. But then Peter gets word of something very odd happening in Elephant and Castle, on an housing estate designed by a nutter, built by charlatans and inhabited by the truly desperate. Is there a connection? And if there is, why oh why did it have to be South of the River? Full of warmth, sly humour and a rich cornucopia of things you never knew about London, Aaronovitch's series has swiftly added Grant's magical London to Rebus' Edinburgh and Morse's Oxford as a destination of choice for those who love their crime with something a little extra.
Foxglove Summer
In the fifth of his bestselling series Ben Aaronovitch takes Peter Grant out of whatever comfort zone he might have found and takes him out of London - to a small village in Herefordshire where the local police are reluctant to admit that there might be a supernatural element to the disappearance of some local children. But while you can take the London copper out of London you can't take the London out of the copper. Travelling west with Beverley Brook, Peter soon finds himself caught up in a deep mystery and having to tackle local cops and local gods. And what's more all the shops are closed by 4pm
The Hanging Tree
Suspicious deaths are not usually the concern of PC Peter Grant or the Folly, even when they happen at an exclusive party in one of the most expensive apartment blocks in London. But Lady Ty's daughter was there, and Peter owes Lady Ty a favour. Plunged into the alien world of the super-rich, where the basements are bigger than the house and dangerous, arcane items are bought and sold on the open market, a sensible young copper would keep his head down and his nose clean. But this is Peter Grant we're talking about. He's been given an unparalleled opportunity to alienate old friends and create new enemies at the point where the world of magic and that of privilege intersect. Assuming he survives the week .
Payment & Security
Payment methods
Your payment information is processed securely. We do not store credit card details nor have access to your credit card information.
---
Security