Roll over image to zoom in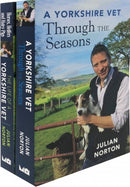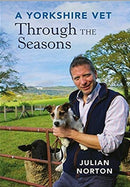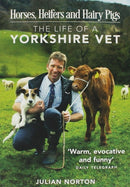 Horses, Heifers and Hairy Pigs - The life of a Yorkshire Vet
From alpacas to exotic pigs, puppies to rabbits, Julian has treated them all and his book is packed with stories about his loveable patients and will prove a firm favourite with all animal lovers. Dealing with unexpected exotic pets - and handling excitable humans too - Julian has seen all sides of the veterinary world and writes about it all with humour and affection. Just as happy calving a cow, treating a dehydrated chameleon or tending to the overgrown teeth of a rabbit, his passion for his work shines through on every page, as does his love for Yorkshire.
Julian Norton also stars in Channel 5's fly-on-the-wall documentary series The Yorkshire Vet, one of the channel's highest rated shows (with series four set to return in 2017). Warm, evocative always compassionate and often funny, Julian's tales bring to life the world of the working vet and the highs and lows he and his colleagues face on a daily basis
Through The Seasons
Julian Norton has been a vet for over twenty years, and in that time he has treated animals of every kind - snakes and lizards, fish and fowl, sheep, goats, alpacas, cows, horses, swans ... you name it, Julian has seen it and, most likely, made it better!
In A Yorkshire Vet Through the Seasons, Julian recounts more inspirational tales from his life, the animals he has treated and the people he has met, as well as taking us through the seasons, showing the challenges and surprises that occur at the most unlikely times. His voice, well known from the television series A Yorkshire Vet on Channel 5, comes over loud and clear in his writing, and the compassion and professionalism he is known for on the TV shines brightly through these pages.
Whether he's tending to a domestic pet at his practice in Thirsk or called out to an injured swan in the middle of a cold Yorkshire night, the animals always come first and Julian's passion and commitment are always to the fore. Full of drama, small triumphs, sadness and happiness, this book is an inspiration for anyone who loves animals as well as those who dream of becoming a vet.
Payment & Security
Payment methods
Your payment information is processed securely. We do not store credit card details nor have access to your credit card information.
---
Security