Roll over image to zoom in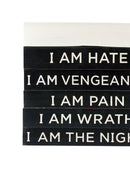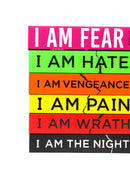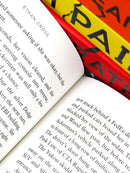 Titles In this Set:
I Am Fear
I Am The Night
I Am Pain
I Am Wrath
I Am Hate
I Am Vengeance 

I Am Fear
OLD ENEMIES... Francis Ackerman Jr. is one of America's most prolific serial killers. Scarred from their past battles, Special Agent Marcus Williams cannot shake Ackerman from his mind. But now Marcus must focus on catching the Anarchist, a new killer who drugs and kidnaps women before burning them alive. NEW THREATS... Marcus knows the Anarchist will strike again soon. And Ackerman is still free. But worse than this is a mysterious figure, unknown to the authorities, who controls the actions of the Anarchist and many like him. He is the Prophet - and his plans are more terrible than even his disciples can imagine.

I Am The Night
Marcus Williams and Francis Ackerman Jr. are both killers. But while Williams is tortured by the deaths he has caused, Ackerman takes pleasure in his murders. Williams is a former New York City homicide detective. Ackerman is a serial killer. And both men are about to become unwilling pawns in a conspiracy that reaches to the highest levels of US government. They will be plunged deep into a hellish underworld of murderers and killers. They will find that there is more that connects them than divides them... and that their lives depend on it.

I Am Pain
A father returns home to find that his family has been kidnapped. He can get them back - alive - if he agrees to pay the ransom. The price is simple: the life of an innocent. Special Agent Marcus Williams is the only one who can stop the Coercion Killer. But to do so, he must first untangle his family's dark past. A past that ties him to the infamous serial killer Francis Ackerman Jr. Marcus knows that uniting with Francis will be dangerous. But the Coercion Killer has scarred their lives, and is poised to destroy many more. Sometimes stopping the worst of the worst is a job for the best of the bad.

I Am Wrath
An Arizona prison officer climbs his watchtower and opens fire on the inmates and guards below. Federal investigator Marcus Williams needs to know why. What he unearths is that the prison has become the hunting ground of a psychopath known only as 'Judas'. To uncover Judas' identity, Williams must join forces with serial killer Francis Ackerman Jr. While Williams works the case from the outside, Ackerman Jr. goes undercover among the prisoners on the inside. What neither of them know is just how diabolically ambitious Judas' master plan is...
I Am Hate
Among their number is 'The Gladiator'. No ordinary contract killer, the Gladiator sees himself as a modern-day Genghis Khan, determined to carve his very name onto the evolution of mankind.
I Am Vengeance 

Working alongside federal agent Marcus Williams, he discovers that the twenty-year-old murder is linked to a string of abductions in the Navajo Nation.
Payment & Security
Payment methods
Your payment information is processed securely. We do not store credit card details nor have access to your credit card information.
---
Security