Roll over image to zoom in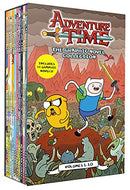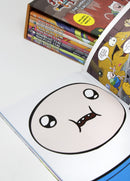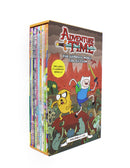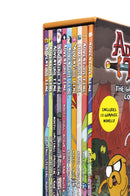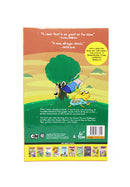 Adventure Time Series Volume 1 - 10 Graphic Novel Books Collection Box Set:Adventure Time vol 1:
It's Adventure Time! Join Finn the Human, Jake the Dog and Princess Bubblegum for all-new adventures through the Land of Ooo.
Adventure Time (Vol.2):
What happens when Jake the dog and Finn the human get hold of Princess Bubblegum's time machine and travel into the future?
Adventure Time Vol.3:
This graphic novel not only collects the out-of-control, adventure packed third story arc, it also includes the unforgettable 'choose your own adventure' story.
Adventure Time Vol.4:
After a battle of ice and saving princesses, Finn and Jake discover a series of dungeons just ready for exploring.
Adventure Time Vol.5:
Princess Bubblegum is facing a lot of trouble when one of her experiments backfire on her, the land of Ooo is in danger...and so are her friends!
Adventure Time Vol. 6:
Finn is cursed! It looks like Magic Man is at it again and it's up to our heroes to save Ooo before Finn forgets everything...again.
Adventure Time Volume 7:
When Princess Bubblegum and Marceline get their driver's licenses, they have the perfect plan build a giant ramp and drive off of it!
Adventure Time Vol. 8:
Finn and Jake wake up one morning to realize that they've forgotten how to cook!?
Adventure Time Volume 9:
Finn and Jake find themselves in the middle of a secret war when they inadvertently take out Peppermint Butler's secret agent Candy Bar!
Adventure Time Vol. 10:
It's hard trying to listen to instructions of an old-timey recording, but Finn and Jake do their best.
Payment & Security
Payment methods
Your payment information is processed securely. We do not store credit card details nor have access to your credit card information.
---
Security