Roll over image to zoom in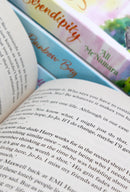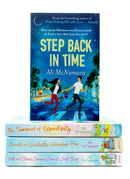 Titles In This Set:
Kate and Clara's Curious Cornish Craft Shop
Secrets and Seashells at Rainbow Bay
Step Back in Time
The Summer of Serendipity

Kate and Clara's Curious Cornish Craft Shop:
Kate thinks all her wishes have come true when she opens her own little craft shop in the idyllic harbour town of St Felix.

But she soon finds a mystery lingers in her new shop - a sixty-year-old love story told through beautiful paintings and intricate embroideries.

Jack, the owner of the nearby art shop, volunteers to help Kate unravel the mystery, but in doing so they realise their own lives share some uncanny similarities with Clara and Arty, their 1950s counterparts . . .

Step Back in Time:
When single career girl Jo-Jo steps onto a zebra crossing and gets hit by a car, she awakes to find herself in 1963. The fashion, the music, her job, even her romantic life: everything is different. And then it happens three more times, and Jo-Jo finds herself living a completely new life in the 1970s, 80s and 90s. The only people she can rely on are Harry and Ellie, two companions from 2013, and George, the owner of a second-hand record store.

If she's ever to return from her travels, Jo-Jo must work out why she's jumping through time like this. And if she does make it back, will her old life ever be the same again?

The Summer of Serendipity:
One summer, property seeker, Serendipity Parker finds herself on the beautiful west coast of Ireland, hunting for a home for a wealthy Irish client. But when she finds the perfect house in the small town of Ballykiltara, there's a problem; nobody seems to know who owns it.

'The Welcome House' is a local legend. Its front door is always open for those in need of shelter, and there's always a plentiful supply of food in the cupboards for the hungry or poor.

Secrets and Sea Shells at Rainbow Bay:
Amelia is a single mother, doing her very best to look after her young son, Charlie - but money is tight and times are tough. When she first hears that she is the last descendent of the Chesterford family and that she has inherited a Real-Life Castle by the sea, Amelia can't quite believe her ears. But it's true!She soon finds that owning a castle isn't quite the ticket to sorting out her money problems that she'd first hoped: she can't sell, because the terms of the ancient bequest state that any Chesterford who inherits the castle, must live there and work towards the upkeep and maintenance of the family home. So ever-practical Amelia decides to uproot her little family and move to this magnificent castle by the sea.
Payment & Security
Payment methods
Your payment information is processed securely. We do not store credit card details nor have access to your credit card information.
---
Security