Roll over image to zoom in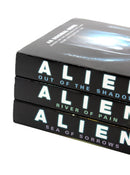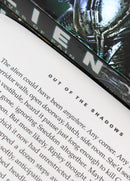 Titles In This Set:
Alien-Sea of Sorrows
Alien-Out of the Shadows
Alien-River of Pain



Alien-Sea of Sorrows
As a deputy commissioner for the ICC, Alan Decker's job is to make sure the settlements on LV178 follow all the rules, keeping the colonists safe. But the planet known as New Galveston holds secrets, lurking deep beneath the toxic sands dubbed the Sea of Sorrows.

Alien-Out of the Shadows
As a child, Chris Hooper dreamed of monsters. But in deep space, he found only darkness and isolation. The on planet LV178, he and his fellow miners discovered a storm-scoured, sand-blasted hell - and trimonite, the hardest material known to man.

Alien-River of Pain
When Ellen Ripley finally returns to Earth, she learns that the planet LV-426--now called Acheron--has been colonized. But LV-426 is where Ripley and the crew of the Nostromo found the original Xenomorph--the killing machine known as the Alien.
Payment & Security
Payment methods
Your payment information is processed securely. We do not store credit card details nor have access to your credit card information.
---
Security