Roll over image to zoom in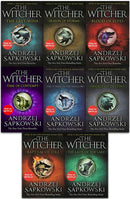 Titles in the Set

The Last Wish (Netflix)
Sword of Destiny
Blood of Elves
Time of Contempt
Baptism of Fire
The Tower of the Swallow
The Lady of the Lake
Season of Storms
The Last Wish (Netflix)
Geralt is a witcher, a man whose magic powers, enhanced by long training and a mysterious elixir, have made him a brilliant fighter and a merciless assassin. Yet he is no ordinary murderer: his targets are the multifarious monsters and vile fiends that ravage the land and attack the innocent

Sword of Destiny
Geralt is a witcher, a man whose magic powers, enhanced by long training and a mysterious elixir, have made him a brilliant fighter and a merciless assassin.

Blood of Elves
For more than a hundred years, humans, dwarves, gnomes and elves lived together in relative peace. But times have changed, the uneasy peace is over and now the races once again fight each other - and themselves

Time of Contempt
Geralt the Witcher has fought monsters and demons across the land, but even he may not be prepared for what is happening to his world.

Baptism of Fire
The Wizards Guild has been shattered by a coup and, in the uproar, Geralt was seriously injured. The Witcher is supposed to be a guardian of the innocent, a protector of those in need, a defender against powerful and dangerous monsters that prey on men in dark times..

The Tower of the Swallow
The world has fallen into war. Ciri, the child of prophecy, has vanished. Hunted by friends and foes alike, she has taken on the guise of a petty bandit and lives free for the first time in her life.

The Lady of the Lake
After walking through a portal in the Tower of the Swallow, thus narrowly escaping death, the Witcher girl, Ciri, finds herself in a completely different world... a world of the Elves. She is trapped with no way out. Time does not seem to exist and there are no obvious borders or portals to cross back into her home world But this is Ciri, the child of prophecy, and she will not be defeated. She knows she must escape to finally rejoin the Witcher, Geralt, and his companions - and also to try to conquer her worst nightmare. Leo Bonhart, the man who chased, wounded and tortured Ciri, is still on her trail.

Season of Storms
The Witcher returns! A brand new novel set in the early days of The Witcher saga - the inspiration behind the bestselling series of games! Geralt. The witcher whose mission is to protect ordinary people from the monsters created with magic. A mutant who has the task of killing unnatural beings. He uses a magical sign, potions and the pride of every witcher - two swords, steel and silver.
Payment & Security
Payment methods
Your payment information is processed securely. We do not store credit card details nor have access to your credit card information.
---
Security