Roll over image to zoom in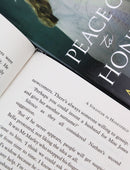 Titles In this Set:
A Stranger in Honeyfield
Peace Comes to Honeyfield
A Stranger in Honeyfield
1916: Bella is working as a Voluntary Aid driving ambulances in England when she gets engaged to Philip, on leave from fighting in France. His family strongly disapprove of her but the two of them are happy together. Georgie, Philip's sister, is in trouble having broken her engagement and fled from her bullying family. Who can she turn to for help when she needs it most? When the worst happens, Bella must manage on her own, though there are shocks and dangers she did not foresee ahead. Thankfully, Philip's best friend Tez, injured in France, steps in to offer assistance. Can he also help Bella build a new life?

Peace Comes to Honeyfield
Armistice Day, London, 1918. Fiercely independent Georgie is tired of being told what's best for her by men. When she defies her father's wishes by going out into the peace festivities, she tries to help a woman being attacked and encounters Patrick, a gallant wounded ex-soldier looking for a new calling now that the fighting is done. But the war isn't over for everybody. Enemy forces have infiltrated the bureau and sent her father into hiding. And they are coming for her too. Georgie knows there's only one place where she'll be safe: Honeyfield. But there are traitors in the bureau and she doesn't know who she can trust. With Patrick in charge of her security detail, can she get to Honeyfield before her father's enemies find her? And will she be reunited with her father, the only family she has left?
Payment & Security
Payment methods
Your payment information is processed securely. We do not store credit card details nor have access to your credit card information.
---
Security