Roll over image to zoom in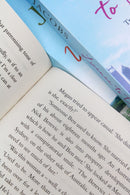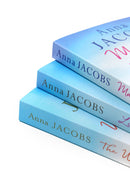 Marrying a Stranger:
When Megan and Ben meet the attraction is instantaneous. The only problem? Ben is bound for Australia in just a week's time! Determined not to let what they've just found go, Ben suggests they get married so that she can go with him. Megan is shocked but doesn't want to lose him, so she agrees.
Licence to Dream:
Meriel grows up in England a tomboy, helping her beloved grandfather with DIY projects. At school she discovers a talent and love for art, but her mother forces her to become an accountant. She's good at that too, but her heart just isn't in it. When she wins some money, her lifelong dream suddenly becomes possible, and she quits her job.
The Wishing Well:
When her unfaithful husband dies in a car crash, Laura decides to leave Australia for her native England to help nurse her ailing mother. Desperate to find a job and a home, a moment of chance at a wishing well leads her to former journalist Kit - a man in need of a live-in housekeeper.
Payment & Security
Payment methods
Your payment information is processed securely. We do not store credit card details nor have access to your credit card information.
---
Security