Roll over image to zoom in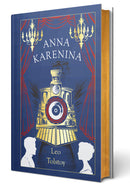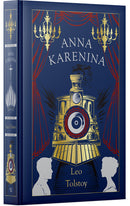 Delve into the profound complexities of human emotions, society, and love with "Anna Karenina" by Leo Tolstoy in this exquisite leather-bound edition. This timeless novel is a literary masterpiece that explores the turbulent lives of its characters, offering an intimate glimpse into the heart of 19th-century Russia.
Tolstoy's storytelling is a rich tapestry of passion, tragedy, and moral introspection. Through the tragic tale of Anna Karenina, the idealistic Levin, and the enigmatic Count Vronsky, the author delves deep into themes of love, desire, and societal expectations. This epic novel is a portrayal of the human condition, and it continues to resonate with readers worldwide.
Bound in luxurious leather with meticulous embossing, gilded edges, and a ribbon marker, this edition is a true collector's item, a focal point for any library, or a cherished gift for literature enthusiasts. Immerse yourself in the opulent world of "Anna Karenina" and explore the profound depths of human existence, love, and societal norms. Whether you are revisiting this classic or discovering it for the first time, this leather-bound edition is an invitation to the enduring power of Leo Tolstoy's storytelling.
Payment & Security
Payment methods
Your payment information is processed securely. We do not store credit card details nor have access to your credit card information.
---
Security