Roll over image to zoom in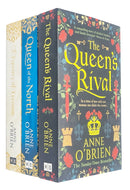 Titles In this Set:
The Queen's Rival:
A Tapestry of Treason:
Queen of the North:
The Queen's Rival:
The Wars of the Roses storm through the country, and Cecily Neville, Duchess of York, plots to topple the weak-minded King Henry VI from the throne. But when the Yorkists are defeated at the battle of Ludford Bridge, Cecily's family flee and abandon her to face a marauding Lancastrian army on her own. Stripped of her lands and imprisoned in Tonbridge Castle, the Duchess begins to spin a web of deceit. One that will eventually lead to treason, to the fall of King Henry VI, and to her eldest son being crowned King Edward IV.

A Tapestry of Treason:
1399: Constance of York, Lady Despenser, proves herself more than a mere observer in the devious intrigues of her magnificently dysfunctional family, The House of York. Surrounded by power-hungry men, including her aggressively self-centred husband Thomas and ruthless siblings Edward and Richard, Constance places herself at the heart of two treasonous plots against King Henry IV. Will it be possible for this Plantagenet family to safeguard its own political power by restoring either King Richard II to the throne, or the precarious Mortimer claimant?

Queen of the North:
1399: England's crown is under threat. King Richard II holds onto his power by an ever-weakening thread, with exiled Henry of Lancaster back to reclaim his place on the throne. For Elizabeth Mortimer, there is only one rightful King – her eight-year-old nephew, Edmund. Only he can guarantee her fortunes, and protect her family's rule over the precious Northern lands bordering Scotland. But many, including Elizabeth's husband, do not want another child-King.
Payment & Security
Payment methods
Your payment information is processed securely. We do not store credit card details nor have access to your credit card information.
---
Security