Roll over image to zoom in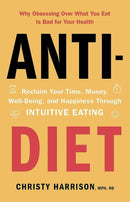 A how-to guide to reclaiming your time, money, health and happiness in our toxic diet culture.

In Anti-Diet, Christy Harrison takes on diet culture and the multi-billion-pound industries that profit from it, exposing all the ways it robs people of their time, money, health and happiness. It will turn what you think you know about health and wellness upside down, as Harrison explores the history of diet culture, how it's infiltrated the health and wellness world, how to recognise it in all its sneaky forms, and how letting go of efforts to lose weight or eat 'perfectly' actually helps to improve people's health - no matter their size.
Drawing on scientific research, personal experience and stories from patients and colleagues, Anti-Diet provides a radical alternative to diet culture, and helps readers reclaim their bodies, minds, and lives so they can focus on the things that truly matter.
Payment & Security
Payment methods
Your payment information is processed securely. We do not store credit card details nor have access to your credit card information.
---
Security