Roll over image to zoom in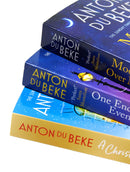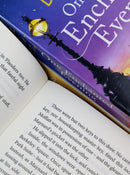 Titles:
Moonlight Over Mayfair
One Enchanted Evening
A Christmas to Remember
Moonlight Over Mayfair:
London, 1937.With a new king in place, tensions are rising in London and across Europe. Shaken by the Great Depression and with talk of another war coming, the Buckingham Hotel is trying to regain some stability. Upstairs, Vivienne Edgerton is desperate to do something worthwhile with her time and her stepfather's money, rather than spending it on frivolity and debauchery - but will this land her in even more trouble?
One Enchanted Evening:
Inside the spectacular Grand Ballroom of the exclusive Buckingham Hotel the rich and powerful, politicians, film stars, even royalty, rub shoulders with Raymond de Guise and his troupe of talented dancers from all around the world, who must enchant them, captivate them, and sweep away their cares. Accustomed to waltzing with the highest of society, Raymond knows a secret from his past could threaten all he holds dear.
A Christmas to Remember:
London, 1938.When fiercely independent chambermaid Nancy Nettleton first moved to London and the Buckingham hotel, the last thing on her mind was finding love, let alone falling for the debonair demonstration dancer Raymond de Guise.As the festive season approaches, life at the exclusive hotel is busier than ever, with guests arriving from around the world, seeking comfort, relaxation and refuge as tensions build across Europe and it looks like another war is imminent.
Payment & Security
Payment methods
Your payment information is processed securely. We do not store credit card details nor have access to your credit card information.
---
Security