Roll over image to zoom in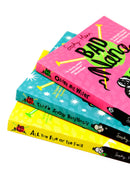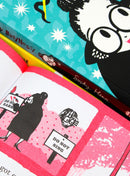 Older Not Wiser
Jeanie's Grandma is BAD. Not bad like a vampire or a gangster or anything, more like . . . up to no good. Sometimes she can be a bit embarrassing but most of the time she's REALLY fun, especially when she gets Jeanie involved in her mischievous schemes. Everyone says she's old enough to know better . . . but she doesn't seem to care one bit. In fact, Jeanie thinks she might quite like it!
That's Snow Business
Hi! I'm Jeanie – still 7 ¾ years old, and back for another adventure with my BRILLIANT grandma BAD NANA.
There's a local winter talent show, and the whole town is SO excited. Especially as the SPECTACULAR Bobby Trulove is in charge. He's an old friend of BAD NANA's and he's quite, erm, dramatic!
The day before the show, a freak weather storm hits, and leaves the town snowed in. Can BAD NANA save the show?
All The Fun For The Fair
Hi! I'm Jeanie – 7 ¾ years old, and a BIG fan of badges.
BAD NANA is one of my three grandmas (yes, three). Of course, "Bad Nana" isn't actually her actual name – but it's what everyone has been calling her for MILLIONS of years. If I had MY way, I would call her "Fun Nana", because she is actually brilliant. Yes, she's a bit NAUGHTY sometimes, but in an EXCELLENT way.
My Dad says she really should know better, but I think she's so bad, she's GOOD!
Payment & Security
Payment methods
Your payment information is processed securely. We do not store credit card details nor have access to your credit card information.
---
Security