Roll over image to zoom in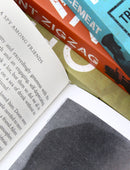 Titles In this Set:
Agent Zigzag
A Spy Among Friends
Double Cross
Operation Mincemeat
Agent Zigzag:
One December night in 1942, a Nazi parachutist landed in a Cambridgeshire field. His mission: to sabotage the British war effort. His name was Eddie Chapman, but he would shortly become MI5's Agent Zigzag. 
A Spy Among Friends:
Kim Philby was the most notorious British defector and Soviet mole in history. Agent, double agent, traitor and enigma, he betrayed every secret of Allied operations to the Russians in the early years of the Cold War. 
Double Cross:
D-Day, 6 June 1944, the turning point of the Second World War, was a victory of arms. But it was also a triumph for a different kind of operation: one of deceit...At the heart of the deception was the 'Double Cross System.
Operation Mincemeat:
One April morning in 1943, a sardine fisherman spotted the corpse of a British soldier floating in the sea off the coast of Spain and set in train a course of events that would change the course of the Second World War.
Payment & Security
Payment methods
Your payment information is processed securely. We do not store credit card details nor have access to your credit card information.
---
Security