Roll over image to zoom in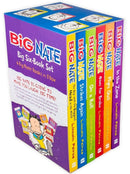 Brand New
RRP: £59.94
Titles and Description:
Big Nate The Boy With The Biggest Head
Big-head Nate Wright truly believes he is destined for greatness! He's a table tennis champ, a genius comic book artist and the self-proclaimed king of his class. One school morning, Nate barely survives his Dad's toxic porridge before rushing off to school, forgetting his lunch. He thinks he has a test and he hasn't studied for it! Nate's class notes are full of doodles but sadly lacking any useful information On the way to school he accidentally body slams his head teacher, then, during his first lesson of the day, he manages to insult his least favourite teacher, Mrs. Godfrey (aka Godzilla). But a little thing like having-the-worst-day-ever won't hold back The Boy with the Biggest Head in the World!
Big Nate Strikes Again
Big Nate has got his heart set on leading his sports team to victory! But it won't be easy. He stuck with Gina, his all time enemy and really rubbish player. Worse yet they have to work together on the class special project which means Gina allowed to call Nate " AT HOME! Gina is at the top of Nate list of THINGS I CAN'T STAND " but will she stand in the way of his greatness? Will Nate win or lose? Pass or fail? Or fall asleep in science and end up in detention again?
Big Nate On a Roll
Big Nate's scout troop is fundraising and while door-to-door selling isn't really Nate's thing, there's nothing like a Grand Prize to get him motivated. Especially when the prize is an awesomely cool customised skateboard (and following an incident with a poodle and a bridge Nate is in need of a new set of wheels). Nate HAS to win the prize but to do that he must out-sell Artur " the luckiest boy at school. Will Nate beat Artur to the prize (and possibly win over Jenny)? Or will he just end up in detention?
Big Nate Goes For Broke
When youve got a head the size of Big Nate then losing is not an option. But Nateschool P.S. 38 get beaten by arch-rivals Jefferson Middle School at EVERYTHING. Whether its sports, maths or a snowball fight in the park, P.S. 38 just cant ever seem to win. So when their school springs a leak and they have to join forces with Jefferson for a while, Nate and his friends are mortified. What degrading loses must they face now? Or can Nate find something that P.S. 38 can actually win at?
Big Nate Flips Out
Big Nate is back the fifth instalment of his own super-funny series. Big Nate is created by Lincoln Peirce, who inspired Jeff Kinney, author of Diary of a Wimpy Kid. Big Nate is flipping out! Everyone knows N-A-T-E does NOT equal N-E-A-T! And when Nate's sloppiness gets out of hand, his best friend Francis gets in serious trouble. Can Nate clean up his act? Or will he flip out first?
Big Nate in the Zone
Big Nate is back the sixth instalment of his own super-funny series. Big Nate is created by Lincoln Peirce, who inspired Jeff Kinney, author of Diary of a Wimpy Kid. Big Nate is in the zone! Nate Wright is down on his luck. In fact hes so far down, it seems it can't get any worse Until with a little help from Chads good luck charm, everything changes " and Nate is on top. All of a sudden, he can do no wrong! But why? And more importantly how long will it last?
Payment & Security
Payment methods
Your payment information is processed securely. We do not store credit card details nor have access to your credit card information.
---
Security