Roll over image to zoom in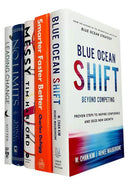 Titles in this set:Blue Ocean Shift:
Drawing on more than a decade of new work, Kim and Mauborgne show you how to move beyond competing, inspire your people's confidence, and seize new growth, guiding you step-by-step through how to take your organization from a red ocean crowded with competition to a blue ocean of uncontested market space.
Smarter Faster Better:
At the core of Smarter Faster Better are eight key productivity concepts--from motivation and goal setting to focus and decision making--that explain why some people and companies get so much done. Drawing on the latest findings in neuroscience, psychology, and behavioral economics.
Messy:
The urge to tidiness seems to be rooted deep in the human psyche. Many of us feel threatened by anything that is vague, unplanned, scattered around or hard to describe. We find comfort in having a script to rely on, a system to follow, in being able to categorise and file away.We all benefit from tidy organisation - up to a point.
No Limits:
In his newest book, John Maxwell identifies 17 core capacities. Some of these are abilities we all already possess, such as energy, creativity and leadership. Others are aspects of our lives controlled by our choices, like our attitudes, character, and intentionality.
Leading Change:
John Kotter's now-legendary eight-step process for managing change with positive results has become the foundation for leaders and organizations across the globe. By outlining the process every organization must go through to achieve its goals, and by identifying where and how even top performers.
Payment & Security
Payment methods
Your payment information is processed securely. We do not store credit card details nor have access to your credit card information.
---
Security