Roll over image to zoom in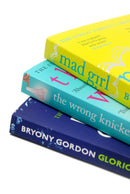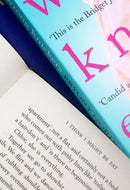 Titles In This Set:

Glorious Rock Bottom
The Wrong Knickers
Mad Girl


Glorious Rock Bottom:
In Glorious Rock Bottom Bryony opens up about a toxic twenty-year relationship with alcohol and drugs and explains exactly why hitting rock bottom - for her, a traumatic event and the abrupt realisation that she was putting herself in danger, time and again - saved her life. Known for her trademark honesty, Bryony re-lives the darkest and most terrifying moments of her addiction, never shying away from the fact that alcoholism robs you of your ability to focus on your family, your work, your health, your children, yourself.
The Wrong Knickers:
THE WRONG KNICKERS Bryony busts open the glamorized myth of what it means to be a young (perpetually) single girl about London town, and shares the horrible and hilarious truth. The truth about picking up a colleague at the STI clinic; sinking into debt to fund a varied diet of wine, crisps and vodka; and how it feels when your dream man turns out to be a one night stand who hands you someone else's knickers in the morning.
Mad Girl:
Bryony Gordon has OCD. It's the snake in her brain that has told her ever since she was a teenager that her world is about to come crashing down: that her family might die if she doesn't repeat a phrase 5 times, or that she might have murdered someone and forgotten about it. It's caused alopecia, bulimia, and drug dependency. And Bryony is sick of it. Keeping silent about her illness has given it a cachet it simply does not deserve, so here she shares her story with trademark wit and dazzling honesty.
Payment & Security
Payment methods
Your payment information is processed securely. We do not store credit card details nor have access to your credit card information.
---
Security