Roll over image to zoom in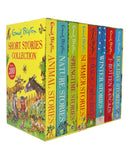 Titles In this Set:
Animal Stories:
Nature Stories:
Springtime Stories:
Summertime Stories:
Stories of Magic and Mischief:
Winter Stories:
Stories of Rotten Rascals:
Holiday Stories:
Animal Stories:
A fantastic collection of 30 stories about animals of all shapes and sizes, this will charm children aged 6 and up. From pet puppies to woodland wildlife, garden birds to pond-dwelling frogs, Enid Blyton was a devoted and knowledgeable animal-lover.
Nature Stories:
Enjoy the freedom of the outdoors, the beauty of the countryside and the charm of all creatures great and small in this bumper short-story collection.
Springtime Stories:
Head off on a sparkling springtime adventure with the world's best-loved storyteller. From the little boy who helps a lamb in trouble to the fairies hidden inside Easter Eggs, excitement and magic are never far away in this collection of stories to read and share.
Summertime Stories:
From picnics in the sunshine to daring outdoor adventures, celebrate the excitement and magic of summertime with these fun-filled short stories by Enid Blyton.
Stories of Magic and Mischief:
Witches and pixies abound in this magical selection of thirty short stories, perfect for seasonal reading and sharing.
Winter Stories:
Snuggle down with this heartwarming collection of classic tales, celebrating the magic and excitement of winter.
Stories of Rotten Rascals:
From temper tantrums and telling tales to bickering and boasting, these bratty boys and ghastly girls are up to no good! Read on if you dare...
Holiday Stories:
From sandcastles at the beach to enchanted ice-creams, step into the summer with these delightful characters.
Payment & Security
Payment methods
Your payment information is processed securely. We do not store credit card details nor have access to your credit card information.
---
Security