Roll over image to zoom in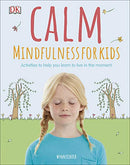 Mindfulness is a big word for a simple idea - it is paying attention, with care, to one moment at a time. The perfect introduction to mindfulness, this children's book teaches kids how to be mindful by focusing their thoughts and noticing the world around them using fun activities.
Children can choose what they need and select an appropriate activity, be it reflective, one that will improve focus, or a calming exercise. Each page has a different activity and children can work through all of the exercises or select an area they wish to work on. It's the perfect gentle introduction to getting a child to think mindfully. Packed with a variety of crafts and exercises, kids can learn practical mindfulness in minutes. Help to settle your emotions by making a glitter jar, take time to appreciate food using mindful eating, and find out how to take a rainbow breath. The breathing exercises can be done almost anywhere, and crafts such as bubbles of kindness use household items to create exciting tools for mindfulness.
Calm - Mindfulness for Kids shows that supporting a child's positive mental health doesn't need to be expensive, time-consuming, or difficult, and that children can de-stress, focus, and get moving while having fun.
Payment & Security
Payment methods
Your payment information is processed securely. We do not store credit card details nor have access to your credit card information.
---
Security