Roll over image to zoom in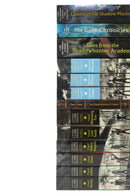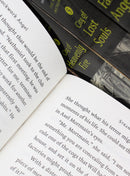 Titles in This Set
City of Bones
City of Ashes
City Glass
City of Lost Soul
City of Fallen Angels
City of Heavenly Fire
The Shadowhunter Codex
Clockwork Angel
Clockwork Angel
Clockwork Princess
Tales from the Shadowhunter Academy
The Bane Chronicles
Ghosts of the Shadow Market



City of Bones
Sixteen-year-old Clary Fray is an ordinary teenager, who likes hanging out in Brooklyn with her friends. But everything changes the night she witnesses a murder, committed by a group of teens armed with medieval weaponry. The murderous group are Shadowhunters, secret warriors dedicated to driving demons out of this dimension and back into their own. Drawn inexorably into a terrifying world, Clary slowly begins to learn the truth about her family - and the battle for the fate of the world.

City of Ashes
With her mother in a coma and her father hell-bent on destroying the world, Clary is dragged deeper into New Yorks terrifying underworld of werewolves, demons and the mysterious Shadowhunters. Discovering the truth about her past was only the beginning, now Clary must save the world from her own father the rogue Shadowhunter Valentine. With two of the Mortal Instruments at his command, Valentine is assembling an army of demons to wage war on the council of Shadowhunters and destroy them once and for all. As the battle begins, Clary must face her darkest fears and come to terms with her feelings for a boy she wishes wasnt her brother.

City Glass
This title is the third and final instalment in the bestselling urban gothic fantasy sequence, "The Mortal Instruments". With two of the Mortal Instruments now in Valentine's hands, the world of the Shadowhunters teeters on the brink of civil war. Jace and the Lightwoods are recalled to Idris, the Shadowhunters' remote and hidden home country, where a search has begun for the last of the Instruments, the Mortal Glass. Clary finds herself caught up in the chaos as the delicate social order of the Nephilim begins to shatter, pitting Downworlder against Downworlder and Shadowhunters against each other. When the City of Glass falls under attack, can Downworlders and Nephilim fight together to defeat Valentine, or will their longstanding hatred destroy them all? And when Clary discovers the unbelievable truth about her own past, can she find Jace before it's too late?

City of Lost Soul
Clary and the Shadowhunters struggle to piece together their shattered world after a betrayal by one of their own leaves them reeling.

City of Fallen Angels
The Mortal War is over, and sixteen-year-old Clary Fray is back home in New York, excited about all the possibilities before her. She's training to become a Shadowhunter and most importantly of all she can finally call Jace her boyfriend. But nothing comes without a price. Someone is murdering the Shadowhunters who used to be in Valentine's Circle, provoking tensions between Downworlders and Shadowhunters that could lead to a second, bloody war. And when Jace begins to pull away from her without explaining why, Clary is forced to delve into the heart of a mystery whose solution reveals her worst nightmare: she herself has set in motion a terrible chain of events that could lead to her losing everything she loves. Even Jace.

City of Heavenly Fire
Darkness has descended on the Shadowhunter world. Chaos and destruction overwhelm the Nephilim as Clary, Jace, Simon, and their friends band together to fight the greatest evil they have ever faced: Clary's own brother. Nothing in this world can defeat Sebastian - but if they journey to the realm of demons, they just might have a chance. Lives will be lost, love sacrificed, and the whole world will change. Who will survive the explosive sixth and final instalment of the Mortal Instruments series? Love the series? Don't miss The Mortal Instruments: City of Bones movie.
The Shadowhunter Codex
Its Clarys copy, and as an artist herself, shes sketched pictures of her friends and family in the book, and scrawled helpful advice in the margins. Of course, she couldnt exactly stop Jace or Simon from adding their thoughts either.

Clockwork Angel
Magic is dangerous - but love is more dangerous still... When sixteen-year-old Tessa Gray arrives in England during the reign of Queen Victoria, something terrifying is waiting for her in London'sDownworld, where vampires, warlocks and other supernatural folk stalk the gaslight streets. Friendless and hunted, Tessa seeks refuge with the Shadowhunters, a band of warriors dedicated to ridding the world of demons. Drawn ever deeper into their world, she finds herselffascinated by - and torn between - two best friends, and quickly realizes that love may be the most dangerous magic of all.

Clockwork Prince
Love and lies can corrupt even the purest heart... In the magical underworld of Victorian London, Tessa Gray finds her heart drawn more and more to Jem, while her longing for Will, despite his dark moods, continues to unsettle her. But something is changing in Will - the wall he has built around himself is crumbling. Could finding the Magister free Will from his secrets and give Tessa the answers to who she is and what she was born to do? As their search for the truth leads the three friends into peril, Tessa's heart is increasingly torn, especially when one of their own betrays them.

Clockwork Princess
If the only way to save the world was to destroy what you loved most, would you do it? The clock is ticking. Everyone must choose. Passion. Power. Secrets. Enchantment. Danger closes in around the Shadowhunters in the third and final instalment of the bestselling Infernal Devices trilogy.

Tales from the Shadowhunter Academy
An illustrated collection of ten stories about Simon Lewis, star of Cassandra Clare's internationally bestselling series The Mortal Instruments.Ten illustrated stories following the adventures of Simon Lewis, star of the #1 New York Times bestselling series The Mortal Instruments, as he trains to become a Shadowhunter. Simon has been a human and a vampire, but after the events of City of Heavenly Fire left him stripped of his memories, he isn't sure who he is any more. When the Shadowhunter Academy reopens, Simon throws himself into this new world of demon-hunting, determined to find himself again. Whoever this Simon might be... Join him on his journey to become a Shadowhunter, and learn about the Academy's illustrious history along the way, through guest lecturers such as Jace Herondale, Tessa Gray and Magnus Bane. The series features characters from Cassandra Clare's Mortal Instruments, Infernal Devices, Dark Artifices and the upcoming Last Hours series.

The Bane Chronicles
11 stories with comic-strip illustrations about immortal warlock Magnus Bane from Cassandra Clare's Shadowhunter novels The perfect gift for Shadowhunters everywhere. Eleven stories and comic-strip illustrations featuring immortal warlock Magnus Bane. A fan-favourite character from Cassandra Clare's Shadowhunter Chronicles, Magnus features in The Mortal Instruments, The Infernal Devices, Tales from the Shadowhunter Academy, The Dark Artifices and the movie and TV series of City of Bones. Magnus will never be able to tell all of his tales. No one would believe him. But these stories shed a little light on his often inscrutable character. They are stories he probably wishes had never got out.
Ghosts of the Shadow Market
The Shadow Market is a meeting point for faeries, werewolves, warlocks and vampires. There, the Downworlders buy and sell magical objects, make dark bargains and whisper secrets they do not want the Nephilim to know. Through two centuries, however, there has been a frequent visitor to the Shadow Market from the City of Bones, the very heart of the Shadowhunters. As a Silent Brother, Brother Zachariah is sworn keeper of the laws and lore of the Nephilim. But once he was a Shadowhunter called Jem Carstairs, and his love, then and always, is the warlock Tessa Gray.
Payment & Security
Payment methods
Your payment information is processed securely. We do not store credit card details nor have access to your credit card information.
---
Security