Roll over image to zoom in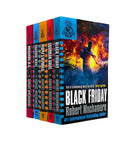 Titles in the Set
Brigands M.C
Guardian Angel
Black Friday
Shadow Wave
People's Republic

Brigands M.C.
Every CHERUB agent comes from somewhere. Dante Scott still has nightmares about the death of his family, brutally murdered by a biker gang. Dante is given the chance to become a member of CHERUB, a trained professional with one essential advantage: adults never suspect that children are spying on them. But when Dante joins James and Lauren Adams on a mission to infiltrate Brigands Motorcycle Club, he is ready to use everything he is learned to get revenge on the people who killed his family ...

Guardian Angel
Ryan has saved Ethan's life more than once. Ethan thinks he must be a guardian angel. But Ryan works for CHERUB, a secret organisation with one key advantage: even experienced criminals never suspect that children are spying on them. Ethan's family runs a billion-dollar criminal empire and Ryan's job is to destroy it. Can Ryan complete his mission without destroying Ethan as well

Black Friday
Ryan is about to board a plane, knowing that the next twenty-four hours will change everything. His mission is to stop the biggest terrorist attack America's ever seen. Ryan works for CHERUB, a secret organisation with one key advantage: even a trained terrorist won't suspect that a teenager is spying on them.

Shadow Wave
After a tsunami causes massive devastation to a tropical island, its governor sends in the bulldozers to knock down villages, replacing them with luxury hotels. Guarding the corrupt governor's family isn't James Adams' idea of the perfect mission, especially as it's going to be his last as a CHERUB agent. And then retired colleague Kyle Blueman comes up with an unofficial and highly dangerous plan of his own.

People's Republic
Twelve-year-old Ryan is CHERUB's newest recruit. He's got his first mission: infiltrating the billion-dollar Aramov criminal empire. But he's got got no idea that this routine job will lead him into an explosive adventure involving drug smugglers, illegal immigrants and human trafficking, or that his first mission will turn into one of the biggest in CHERUB's history.
Payment & Security
Payment methods
Your payment information is processed securely. We do not store credit card details nor have access to your credit card information.
---
Security