Roll over image to zoom in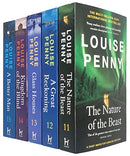 Titles In This Set:
The Nature of the Beast
A Great Reckoning

Glass Houses
Kingdom of the Blind
A Better Man
The Nature of the Beast:

Hardly a day goes by when nine-year-old Laurent Lepage doesn't cry wolf. His boundless sense of adventure and vivid imagination mean he has a tendency to concoct stories so extraordinary and so far-fetched that no one can possibly believe him. But when Laurent disappears, former Chief Inspector Armand Gamache is faced with the possibility that one of his tall tales might have been true.


A Great Reckoning:

Former Chief Inspector Gamache has been hunting killers his entire career and as the new commander of the Sûreté Academy, he is given the chance to combat the corruption and brutality that has been rife throughout the force.


Glass Houses:

One cold November day, a mysterious figure appears on the village green in Three Pines, causing unease, alarm and confusion among everyone who sees it. Chief Superintendent, Armand Gamache knows something is seriously wrong, but all he can do is watch and wait, hoping his worst fears are not realised.


Kingdom of the Blind:

When Armand Gamache receives a letter inviting him to an abandoned farmhouse outside of Three Pines, the former head of the Sûreté du Québec discovers that a complete stranger has named him as an executor of her will.


A Better Man:

Amid blistering personal social media attacks, Gamache sets out on his first assignment. He has been tasked with finding a missing woman, but while he leads the search for Vivienne Godin, Three Pines itself is threatened when the river breaks its banks, and a province-wide emergency is declared.
Payment & Security
Payment methods
Your payment information is processed securely. We do not store credit card details nor have access to your credit card information.
---
Security