Roll over image to zoom in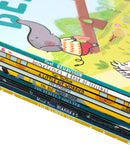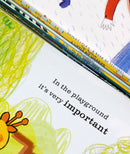 Titles In This Set:
Sometimes: A Book of Feelings
Tiny Tantrum
A Little Bit Worried
I'm Sorry!
The Big Angry Roar
The Perfect Shelter
Best Behaviour
Happy
Mind Your Manners
The Worry Box


Sometimes: A Book of Feelings
Your body's full of feelings: like the tide, they ebb and flow.
Sometimes they lift you high and sometimes they bring you low.

This heartwarming book follows a brother and sister as they navigate the highs and lows of their day. From fear to bravery, anger to peace, this gentle story in pictures offers a simple guide to life.

Tiny Tantrum
When Tiny has a TANTRUM you can hear it for miles! Windows rattle, jelly quakes and birds fall out of trees. Can anyone persuade Tiny to eat her vegetables, share her toys and brush her teeth? How about a band of hairy monsters?

A Little Bit Worried
When Weasel is caught in a big, angry storm, he builds a fortress to hide in. But then he meets Mole, who loves to play in the wind and splash in the rain. Can Weasel learn to overcome his fears and find joy, whatever the weather?

I'm Sorry!
Scribble and Swoop are the best of friends – until the day they have a TERRIBLE QUARREL! Which friend will be the first to say sorry? And can an apology fix their precious friendship?

The Big Angry Roar
Cub is angry, so he STOMPS and SMASHES and ROARS!
But now he just feels worse! Maybe his friends can help?
The perfect story for any child experiencing feelings of anger and learning what to do with them.

The Perfect Shelter
At first, nobody knew. It seemed as if today would be like yesterday forever, the perfect day to build a shelter in the woods. Then, my sister changed – she was more tired than before. More quiet. When we learn that she is sick, really sick, it feels as though a storm has engulfed our whole family. But, we will ride out this storm. And though today may be different from yesterday, today is the perfect day to build a shelter, together.

Best Behaviour
With simple rhymes and concepts, whimsical, accessible art makes "good behaviour" fun. Easy to relate and understand, start the conversation! Make it fun

Happy
We breathe deep and expand like the galaxy, We breathe out many thousands of stars,
And if ever we start to feel panicky, This reminds us of just who we are.

Mind Your Manners
It's okay to enjoy roaring loudly. We all deserve some time to play. But all lions should practice those soft growls, For the quieter times of the day.

Welcome to the jungle! It's full of misbehaving animals, from messy monkeys to grumpy grizzly bears but with the help of our quirky, memorable rhymes and adorable animal illustrations, your child will enjoy learning why it pays for pandas to say 'please', and how good manners make the world go round.

The Worry Box
Murray Bear has lots of worries. What if the waterfall he's visiting is too loud? What if he's not very good at climbing? And what if all his friends laugh at him? With the help of his sister, Milly, Murray makes a special box in which to keep all his worries. But can the worry box really help?

Payment & Security
Payment methods
Your payment information is processed securely. We do not store credit card details nor have access to your credit card information.
---
Security