Roll over image to zoom in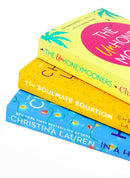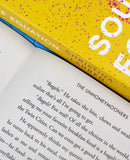 Titles:

The Unhoneymooners

In A Holidaze

The Soulmate Equation


The Unhoneymooners:

Olive is always unlucky; her identical twin sister Ami, on the other hand, is probably the luckiest person in the world. While she's about to marry her dream man, Olive is forced to play nice with her nemesis: the best man, Ethan. Yet Olive's luck may be on the turn . . . When the entire wedding - except for Olive and Ethan - gets food poisoning, there's an all-expenses-paid honeymoon in Hawaii up for grabs.


In A Holidaze:

t's the most wonderful time of the year . . . but not for Maelyn Jones. She's living with her parents, hates her going-nowhere job and has just made a romantic error of epic proportions. But perhaps worst of all, this is the last Christmas Mae will be at her favourite place in the world - the snowy cabin where she and her family have spent every holiday since she was born.


The Soulmate Equation:

Jess Davis is a numbers genius, but when it comes to love she's had to accept there is no magic formula. Juggling a mathematical career with raising her hyper (but adorable) seven-year-old Juno, it's not surprising that her love life is. . . non-existent. Juno has a hunch that her mum would find the perfect man if she stepped out of her comfort zone - but Jess barely has time to make her daughter's lunch, let alone put thought into dating. And when yet another date ends in disaster, she's prepared to give up on love for good.
Payment & Security
Payment methods
Your payment information is processed securely. We do not store credit card details nor have access to your credit card information.
---
Security