Roll over image to zoom in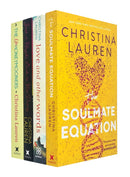 Titles in this Set:
The Unhoneymooners:
The Soulmate Equation:
Love and Other Words:
Josh and Hazel's Guide to Not Dating:

The Unhoneymooners:
Olive is always unlucky; her identical twin sister Ami, on the other hand, is probably the luckiest person in the world. While she's about to marry her dream man, Olive is forced to play nice with her nemesis: the best man, Ethan.Yet Olive's luck may be on the turn . . . When the entire wedding - except for Olive and Ethan - gets food poisoning, there's an all-expenses-paid honeymoon in Hawaii up for grabs.

The Soulmate Equation:
Jess is a numbers genius, but when it comes to love she's had to accept there is no magic formula. Juggling a career with raising her daughter, it's not surprising that her love life is. . . non-existent. When yet another date ends in disaster, she's prepared to give up on love for good. But then she hears about a buzzy new matchmaking company that claims to find you the One using a DNA equation. Suddenly, love doesn't seem quite so far out of reach . . .

Love and Other Words:
Macy is settling into an ambitious if emotionally tepid routine: work hard as a new paediatrics resident, plan her wedding to an older, financially secure man, keep her head down and heart tucked away. But when she runs into Elliot - the first and only love of her life - the careful bubble she's constructed begins to dissolve.

Josh and Hazel's Guide to Not Dating:
Hazel knows she's a lot to take - and frankly, most men aren't up to the challenge. If her army of pets and taste for the absurd don't send them running, her lack of filter and tendency to say exactly the wrong thing will. Their loss. Not everyone can handle a Hazel. Josh has known Hazel since college.
Payment & Security
Payment methods
Your payment information is processed securely. We do not store credit card details nor have access to your credit card information.
---
Security