Roll over image to zoom in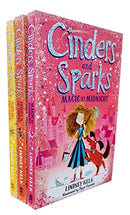 Titles In this Set:
Cinders and Sparks: Magic at Midnight: Book 1
Cinders and Sparks: Fairies in the Forest: Book 2
Cinders and Sparks: Goblins and Gold: Book 3
Cinders and Sparks: Magic at Midnight: Book 1
Cinders lives a boring life with her selfish stepsisters and mean stepmother. So when her wishes start magically coming true it's a surprise to say the least.

Then Cinders meets her fairy godmother: she's magic, she can fly, and she's called . . . Brian.

Soon, Cinders finds herself heading to the glamorous ball at the King's palace. But Brian is NOT very reliable and Cinders is NOT very good at magic. Now her life isn't boring at all – it's total chaos!

Cinders and Sparks: Fairies in the Forest: Book 2
Cinders and her talking dog Sparks are on the run, in the Deep Dark Forest, after Cinders performed magic at the castle and made everyone think she was a witch. The hapless Hansel is on the run with them, but only because he ate some of an actual witch's gingerbread house and she got cross. If they can reach Fairyland, maybe they'll all be safe.

In the forest they will find three bears, a multitude of ridiculous adventures and one woman called Rapunzel in a tower. But Rapunzel may not be what she seems…

Will Hansel eat the three bears' porridge? Will Sparks offer useless advice at every turn? Will Brian the fairy godmother appear and actually help for once?

Cinders and Sparks: Goblins and Gold: Book 3
Cinders, her talking-dog, Sparks, a horse called Mouse, and Hansel (who accidentally – on purpose – ate some of a witch's gingerbread house) continue their quest to find Fairyland. But even the bravest questers get hungry, and when the quartet stop at a market for lunch, calamity and chaos ensue.

Cinders is kidnapped by a greedy goblin, Mouse is turned back into a mouse, and Cinders's fairy godmother, Brian, pairs up with Prince Joderick to rescue her.

Will Cinders escape the evil goblin? Will Sparks sing karaoke? Will the Huntsman find and capture them?

Payment & Security
Payment methods
Your payment information is processed securely. We do not store credit card details nor have access to your credit card information.
---
Security