Roll over image to zoom in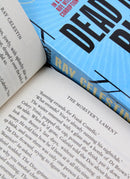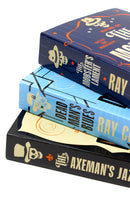 Titles In This Set:
The Axeman's Jazz
Dead Man's Blues
The Mobster's Lament

The Axeman's Jazz:
New Orleans, 1919. As a dark serial killer – the Axeman – stalks the city, three individuals set out to unmask him:Detective Lieutenant Michael Talbot – heading up the official investigation, but struggling to find leads, and harbouring a grave secret of his own.Former detective Luca d'Andrea – now working for the mafia; his need to solve the mystery of the Axeman is every bit as urgent as that of the authorities.

Dead Man's Blues:
Chicago, 1928. In the stifling summer heat three disturbing events take place. A clique of city leaders is poisoned in a fancy hotel. A white gangster is found mutilated in an alleyway in the Blackbelt. And a famous heiress vanishes without a trace.Pinkerton detectives Michael Talbot and Ida Davis are hired to find the missing heiress by the girl's troubled mother. But it proves harder than expected to find a face that is known across the city, and Ida must elicit the help of her friend Louis Armstrong.

The Mobster's Lament:
New York, 1947.Mob fixer Gabriel Leveson's plans to flee the city are put on hold when he is tasked with tracking down stolen mob money by 'the boss of all bosses', Frank Costello. But while he's busy looking, he doesn't notice who's watching him . . .Meanwhile, Private Investigator Ida Young and her old partner, Michael Talbot, must prove the innocence of Talbot's son Tom, who has been accused of the brutal murders of four people in a Harlem flophouse.
Payment & Security
Payment methods
Your payment information is processed securely. We do not store credit card details nor have access to your credit card information.
---
Security