Roll over image to zoom in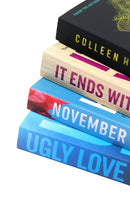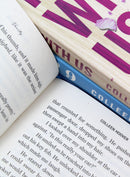 Titles In this Set:
It Ends With Us
Ugly Love
November 9
Verity
It Ends With Us:
Lily hasn't always had it easy, but that's never stopped her from working hard for the life she wants. She's come a long way from the small town in Maine where she grew up – she graduated from college, moved to Boston, and started her own business. So when she feels a spark with a gorgeous neurosurgeon named Ryle Kincaid, everything in Lily's life suddenly seems almost too good to be true.

Ugly Love:
When Tate Collins finds airline pilot Miles Archer passed out in front of her apartment door, it is definitely not love at first sight. They wouldn't even go so far as to consider themselves friends. But what they do have is an undeniable mutual attraction. He doesn't want love and she doesn't have time for a relationship, but their chemistry cannot be ignored.

November 9:
Fallon meets Ben, an aspiring novelist, the day before her scheduled cross-country move. Their untimely attraction leads them to spend Fallon's last day in L.A. together, and her eventful life becomes the creative inspiration Ben has always sought for his novel. Over time and amidst the various relationships and tribulations of their own separate lives, they continue to meet on the same date every year. Until one day Fallon becomes unsure if Ben has been telling her the truth or fabricating a perfect reality for the sake of the ultimate plot twist.

Verity:
Lowen Ashleigh is a struggling writer on the brink of financial ruin when she accepts the job offer of a lifetime. Jeremy Crawford, husband of bestselling author Verity Crawford, has hired Lowen to complete the remaining books in a successful series his injured wife is unable to finish.
Lowen arrives at the Crawford home, ready to sort through years of Verity's notes and outlines, hoping to find enough material to get her started. What Lowen doesn't expect to uncover in the chaotic office is an unfinished autobiography Verity never intended for anyone to read. Page after page of bone-chilling admissions, including Verity's recollection of the night their family was forever altered.

Payment & Security
Payment methods
Your payment information is processed securely. We do not store credit card details nor have access to your credit card information.
---
Security