Roll over image to zoom in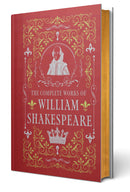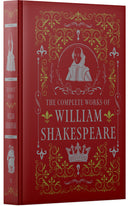 Experience the timeless brilliance of William Shakespeare's literary legacy with the "Complete Works of William Shakespeare" in this exquisite leather-bound edition. This volume is a comprehensive collection of Shakespeare's plays, sonnets, and poems, offering an immersive journey into the genius of the Bard himself.
Shakespeare's works, renowned for their exploration of the human condition, love, ambition, and tragedy, remain as relevant today as they were during the Elizabethan era. From the heart-wrenching "Romeo and Juliet" to the political intrigue of "Macbeth," each play showcases his unparalleled ability to capture the complexities of the human spirit.
Bound in fine leather and adorned with meticulous embossing, gilded edges, and a ribbon marker, this edition is a true collector's treasure, a centrepiece for any library, or a cherished gift for lovers of classic literature. Immerse yourself in the world of Shakespearean drama and poetry, where eloquent soliloquies, unforgettable characters, and universal themes await. Whether you are a seasoned Shakespearean scholar or a newcomer to his works, this leather-bound collection is a gateway to the enduring magic of the greatest playwright in the English language.
Payment & Security
Payment methods
Your payment information is processed securely. We do not store credit card details nor have access to your credit card information.
---
Security