Roll over image to zoom in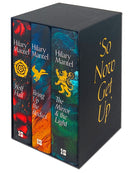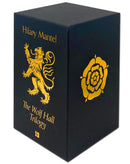 Titles in this Set
The Mirror and the Light
Wolf Hall
Bring Up the Bodies

The Mirror and the Light 

England, May 1536. Anne Boleyn is dead, decapitated in the space of a heartbeat by a hired French executioner. As her remains are bundled into oblivion, Thomas Cromwell breakfasts with the victors. The blacksmith's son from Putney emerges from the spring's bloodbath to continue his climb to power and wealth, while his formidable master, Henry VIII, settles to short-lived happiness with his third queen, Jane Seymour.

Wolf Hall 
England, the 1520s. Henry VIII is on the throne, but has no heir. Cardinal Wolsey is his chief advisor, charged with securing the divorce the pope refuses to grant. Into this atmosphere of distrust and need comes Thomas Cromwell, first as Wolsey's clerk, and later his successor. Cromwell is a wholly original man: the son of a brutal blacksmith, a political genius, a briber, a charmer, a bully, a man with a delicate and deadly expertise in manipulating people and events. Ruthless in pursuit of his own interests, he is as ambitious in his wider politics as he is for himself.

Bring Up the Bodies
With this historic win for Bring Up the Bodies, Hilary Mantel becomes the first British author and the first woman to be awarded two Man Booker Prizes. By 1535 Thomas Cromwell is Chief Minister to Henry VIII, his fortunes having risen with those of Anne Boleyn, the king's new wife. But Anne has failed to give the king an heir, and Cromwell watches as Henry falls for plain Jane Seymour. Cromwell must find a solution that will satisfy Henry, safeguard the nation and secure his own career.
Payment & Security
Payment methods
Your payment information is processed securely. We do not store credit card details nor have access to your credit card information.
---
Security