Roll over image to zoom in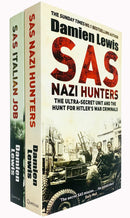 Titles In this Set:
SAS Nazi Hunters:
SAS Italian Job:
SAS Nazi Hunters:
SAS Nazi Hunters is the incredible, hitherto untold story of the most secret chapter in the SAS's history. Officially, the world's most elite special forces unit was dissolved at the end of the Second World War, and not reactivated until the 1950s. Among their last actions was a disastrous commando raid into occupied France in 1944, which ended in the capture, torture and execution of 31 soldiers.

SAS Italian Job:
In the hard-fought winter of 1944 the Allies advanced northwards through Italy, but stalled on the fearsome mountainous defences of the Gothic Line. Two men were parachuted in, in an effort to break the deadlock. Their mission: to penetrate deep into enemy territory and lay waste to the Germans' impregnable headquarters. At the eleventh hour mission commanders radioed for David 'The Mad Piper' Kilpatrick to be flown in, resplendent in his tartan kilt. They wanted this fearless war hero to lead the assault, piping Highland Laddie as he went - so leaving an indelible British signature to deter Nazi reprisals.
Payment & Security
Payment methods
Your payment information is processed securely. We do not store credit card details nor have access to your credit card information.
---
Security