Roll over image to zoom in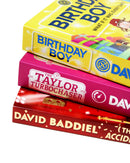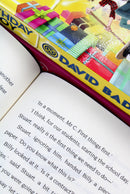 Titles In This Set:
The Boy Who Got Accidentally Famous


Birthday Boy




The Taylor TurboChaser



The Boy Who Got Accidentally Famous:
Nothing extraordinary has ever happened to Billy Smith. In fact, every single thing about him is ordinary, including his name. But when a documentary crew turns up at Billy's school to film the new TV series 
School Daze
, everything changes.
Billy shouldn't stand out: all the other kids are much more interesting than him. But when remixes of his boring class presentation go viral, Billy finds himself accidentally an overnight star. With his friends Bo and Rinor by his side, his life turns into a whirlwind of red carpets, TV shows, albums and even the possibility of meeting Sunshine De Marto – the coolest girl on the planet. But as everyone knows, fame comes with a price…

Birthday Boy:

A hilarious rollercoaster ride of pure entertainment for 9+ readers everywhere, Birthday Boy is the new Baddiel Blockbuster: featuring David's inimitable and award-winning combination of wish-fulfilment, heart and hilarity, all brought to life by regular collaborator Jim Field's witty, stylish illustrations. What if it was every day? This is the story of Sam Green, who really, really, really loves birthdays. He loves the special breakfasts in bed. The presents. The themed parties. Blowing out the candles on his cake. Everything. He is so excited about his 11th birthday, in fact, that he wishes it was his birthday every day.


The Taylor TurboChaser:

The Taylor TurboChaser is a road-trip rollercoaster… with a twist. At its heart is the unforgettable Amy Taylor. Amy loves cars, and dreams of being a driver. But there's a major catch: her slow old wheelchair with its broken wheel. When Amy finally gets a new electric one, it's exciting… at first. But standard engines only have so much power. And that's where Rahul comes in – Amy's best friend and genius inventor. Soon Rahul turns a wheelchair into… a supercar!
Payment & Security
Payment methods
Your payment information is processed securely. We do not store credit card details nor have access to your credit card information.
---
Security