Roll over image to zoom in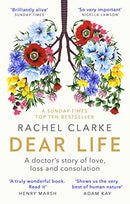 As a specialist in palliative medicine, Dr Rachel Clarke chooses to inhabit a place many people would find too tragic to contemplate. Every day she tries to bring care and comfort to those reaching the end of their lives and to help make dying more bearable.
Rachel's training was put to the test in 2017 when her beloved GP father was diagnosed with terminal cancer. She learned that nothing - even the best palliative care - can sugar-coat the pain of losing someone you love.
And yet, she argues, in a hospice there is more of what matters in life - more love, more strength, more kindness, more joy, more tenderness, more grace, more compassion - than you could ever imagine. For if there is a difference between people who know they are dying and the rest of us, it is simply this: that the terminally ill know their time is running out, while we live as though we have all the time in the world.
Payment & Security
Payment methods
Your payment information is processed securely. We do not store credit card details nor have access to your credit card information.
---
Security