Roll over image to zoom in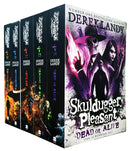 Titles In this Set:
Resurrection
Midnight
Bedlam
Seasons of War
Dead Or Alive

Resurrection
A lot has changed. Roarhaven is now a magical city, where sorcerers can live openly. Valkyrie Cain has been out of action for years, recovering from the war against her alter-ego Darquesse, which nearly destroyed her and everyone else.

Midnight
For years, Valkyrie Cain has struggled to keep her loved ones safe from harm, plunging into battle – time and time again – by Skulduggery Pleasant's side, and always emerging triumphant. But now the very thing that Valkyrie fights for is in danger, as a ruthless killer snatches her little sister in order to lure Valkyrie into a final confrontation. With Skulduggery racing to catch up and young sorcerer Omen scrambling along behind, Valkyrie only has twelve hours to find Alice before it's too late. The clock is ticking…

Bedlam
On a desperate journey to recover her sister's lost soul, Valkyrie Cain goes up against the High Sanctuary itself, and there's nothing Skulduggery Pleasant can do to stop her. With Abyssinia's grand plan about to kick off in a night of magic, terror, and bloodshed, it falls to Omen Darkly to save the lives of thousands of innocent people.

Seasons of War
War is coming. To avert catastrophe, Skulduggery and Valkyrie are sent on a secret mission that takes them away from everything they know, to a forsaken land of magic and grim, unrelenting terror. It is here that Valkyrie will have to fight the hardest ― not only against the enemies who want her dead, but also against her own self-destructive impulses. It's only by crawling through darkness that she'll be able to once again stand in the light…
Dead or Alive
Billions of lives will be wiped away in a final, desperate search for the Child of the Faceless Ones ― she who is destined to bring about the return of humankind's ancient overlords.
Payment & Security
Payment methods
Your payment information is processed securely. We do not store credit card details nor have access to your credit card information.
---
Security