Roll over image to zoom in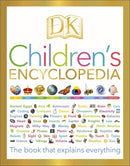 The ultimate book of knowledge for kids aged 7 to 9, this thorough children's encyclopedia contains all the homework answers your kids will need, explained clearly and checked by experts.
An engaging, traditional-style general reference book for kids covering all the key subjects including Arts, People, History, Earth, Nature, Science, Technology, Space, and the Human Body in alphabetical order.
This encyclopedia for children is a must-have resource for every student's shelf, with age-appropriate, jargon-free text accompanied by stunning, detailed images covering over 240 topics all in one place, from science and nature to history and the arts. Essential for any child who wants to discover as much as possible about the world around them.
Packed with information, each single-page entry in this fabulous kid's encyclopedia features a key topic explained in a concise manner accompanied by gorgeous visuals, fun facts about the world and extensive cross-references revealing the links between subject areas. Kids can learn about Ancient Rome, chemistry, evolution, microscopic life, robots, Vikings, and so much more.
Written, edited, and designed by a team of experts, vetted by educational consultants, and properly levelled to the reading age, this is the ultimate knowledge book for kids.
Explore, Wonder And Learn!
The ultimate illustrated children's encyclopedia is packed with thousands of incredible and essential facts on favourite subjects!
Beautiful illustrations, colourful maps, and magnificent photographs bring every single page to life. Inspiring and informative, the DK Children's Encyclopedia is a book of wonder that will absorb and engage children of all ages.
This kid's educational book covers topics like:
-Storytelling, changing the world, music and war
-Films, technology, inventions, food and clothes
-Explorers, planets and pets
-And so much more!
Payment & Security
Payment methods
Your payment information is processed securely. We do not store credit card details nor have access to your credit card information.
---
Security