Roll over image to zoom in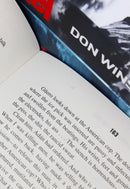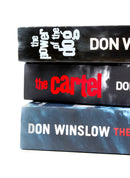 Titles In this Set 
The Power of the Dog 
The Border
The Cartel 
The Power of the Dog 
Drug lord Miguel Angel Barrera is head of the Mexican drug federación, responsible for millions of dollars worth of cocaine traffic into the US and the torture and murder of those who stand in its way. His nephew, Adan Barrera, is his worthy successor. Art Keller is a US government operative, so determined to obtain revenge for a murdered colleague that his pursuit of the cartel veers dangerously towards an obsession outside the law.
The Border:
For over forty years, Art Keller has been on the front lines of America's longest conflict: The War On Drugs. Now elevated to the highest ranks of the DEA, Keller finds himself surrounded by an incoming administration that's in bed with the very drug traffickers that Keller is trying to bring down. From the slums of Guatemala to the marbled corridors of Washington, D.C., Winslow follows a new generation of Narcos, cops, addicts, politicians, and mere children fleeing the violence for the chance of a life in a new country.
The Cartel:
It's 2004. DEA agent Art Keller has been fighting the war on drugs for thirty years in a blood feud against Adan Barrera, the head of El Federación, the world's most powerful cartel, and the man who brutally murdered Keller's partner. Putting Barrera away costs Keller dearly – the woman he loves, the beliefs he cherishes, the life he wants to lead.
Payment & Security
Payment methods
Your payment information is processed securely. We do not store credit card details nor have access to your credit card information.
---
Security