Roll over image to zoom in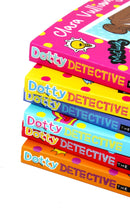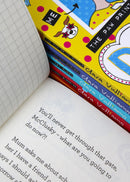 Titles In This Set :

Super Secret Agent
Dot loves super-sour apple sherberts, running fast and puzzles – especially if they're fiendishly tricky. And with the help of trusty sidekick, Beans and TOP DOG, McClusky, she is always ready to sniff out a mystery. So when meangirl Laura seems set on sabotaging the school talent show, Dot is determined to find out how, and save the day…

The Holiday Mystery
Dotty and Beans are SUPER excited about their summer holiday together. It's going to be SO much fun. Beaches, BBQs and best of all NO SCHOOL! But there's no rest for the Join the Dots Detectives who soon have a campsite case to solve…

The Paw Print Puzzle
When Dot starts hearing strange noises at night she thinks there must be something SPOOKY afoot. But before they can prove there's a ghost on the loose, Dot and Beans have to follow Ace Detective Fred Fantastic's golden rule: GET PROOF. Easier said than done when the suspect seems to be invisible!
It's time to FOLLOW THAT HUNCH!
The Midnight Mystery
Dot and Beans can't wait for their school trip to Adventure Camp where they will do lots of exciting activities like zip-wiring, grass tobogganing and roasting marshmallows round a campfire! But once they arrive, strange things start happening. Could mean girl Laura could be up to her old tricks in a bid to win the Adventure Camp Prize…? It's up to the Join the Dots Detectives to find out!
Meanwhile, TOP DOG McClusky is entered into a local dog show! Will he keep up his training while Dot's away and win the prize for handsomest pooch?
The Lost Puppy
It's the last week of school term and the children are looking forward to the School summer fair. Dotty and best pal Beans will be looking after pet's corner, starring McClusky and his two canine pals: Geoffrey and the little sausage dog puppy, Chipolata. But just days before the fair disaster strikes – Chipolata has gone missing.
Dotty and Beans get on the case. Can they solve the mystery of the missing puppy?
The Birthday Surprise
Dotty is sporty, funny, creative, clever and FEARLESS: She is great with codes and puzzles and most of all – if there's a mystery to solve – she's your girl. This time round her trusty sidekick, Beans and TOP DOG, McClusky are keeping secrets from Dotty – will she like their surprise?


Length - 12.8cm
Width - 7.3cm
Height - 18.4cm
Payment & Security
Payment methods
Your payment information is processed securely. We do not store credit card details nor have access to your credit card information.
---
Security