Roll over image to zoom in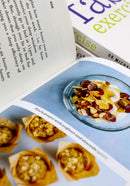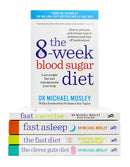 Titles In this Set:
The 8-Week Blood Sugar Diet:
Fast Asleep:
The Fast Diet:
The Clever Guts Diet:
Fast Exercise:
The 8-Week Blood Sugar Diet:
In this timely book, Dr Mosley explains why we pile on dangerous abdominal fat and shows us how to shed it, fast. He demolishes common myths, such as the claim that steady weight loss is always better than rapid weight loss and that those who lose weight rapidly will inevitably put it back on.

Fast Asleep:
In Fast Asleep, Dr Michael Mosley explains what happens when we sleep, what triggers common sleep problems and why standard advice rarely works. Prone to insomnia, he has taken part in numerous sleep experiments and tested every remedy going. The result is a radical, four-week programme, based on the latest science, designed to help you re-establish a healthy sleep pattern in record time.

The Fast Diet:
Dr Mosley's Fast Diet has become the health phenomenon of our times. And for good reason. This radical approach to weight loss really is as simple as it sounds. You eat normally for five days a week, then for just two days you cut your calorie intake (600 for men, 500 for women).

The Clever Guts Diet:
In this ground breaking book, Dr Mosley takes us on a revelatory journey through the gut, showing how junk food and overuse of antibiotics have wiped out many good gut bacteria, leading to a modern plague of allergies, food intolerances, and obesity.

Fast Exercise:
Dr Michael Mosley and Peta Bee investigate the fascinating science behind a radical new approach to exercise, one that is incredibly time efficient. Research done by leading sports scientists has shown the extraordinary impact that *ultra short bursts* of high intensity intermittent training can have, whether you are an athlete or a sedentary couch potato.
Payment & Security
Payment methods
Your payment information is processed securely. We do not store credit card details nor have access to your credit card information.
---
Security