Roll over image to zoom in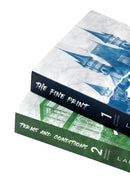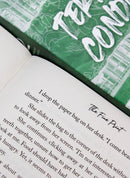 Titles In this Set:
The Fine Print:
Terms and Conditions:
The Fine Print:
Rowan. I'm in the business of creating fairy tales. Theme parks. Production companies. Five-star hotels. Everything could be all mine if I renovated Dreamland. My initial idea of hiring Zahra was good in theory, but then I kissed her. Things spiraled out of control once I texted her using an alias. By the time I realized where I went wrong, it was too late. People like me don't get happy endings. Not when we're destined to ruin them.

Terms and Conditions:
Declan. I'm destined to become the next CEO of my family's media empire. The only problem? My grandfather's inheritance clause. Fulfilling his dying wish of getting married and having an heir seemed impossible until my assistant volunteered for the job. Our marriage was supposed to be the perfect solution to my biggest problem. But the more we act in love for the public, the more unsure I feel about our contract. Caring about Iris was never part of the deal. Especially not when breaking her heart is inevitable.
Payment & Security
Payment methods
Your payment information is processed securely. We do not store credit card details nor have access to your credit card information.
---
Security