Roll over image to zoom in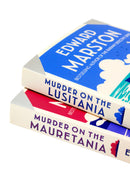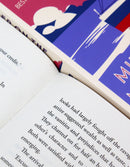 Murder on the Lusitania
September 1907. George Dillman sets sail from Liverpool to New York on the Lusitania's maiden voyage. Posing as a passenger, Dillman is in fact an undercover detective hired by the Cunard Line to keep an eye out for petty crimes. But after some uneventful days aboard, the ship's blueprints are stolen and then a body is found. As Dillman works to get to the bottom of the crimes, he makes an unusual friend, first-class passenger Genevieve Masefield, and the two uncover secrets aboard the ship that prove explosive.

Murder on the Mauretania
November 1907. George Dillman and Genevieve Masefield sail from Liverpool on the maiden voyage of the Mauretania. While posing as a passenger George is in fact an undercover detective hired by the Cunard Line. Dillman and Genevieve endure a nightmare voyage during which severe weather batters the vessel relentlessly and keeps the passengers away from the decks. Dillman is instrumental in rescuing a crew member from being washed overboard but he is too late to save one of the First Class passengers from the same fate. At first, it looks like a case of death by misadventure. But Dillman and Genevieve come to realise that it was an act of calculated murder, connected with the presence on board of a record shipment of gold bullion - twelve tons in all - sent from the Bank of England.

Payment & Security
Payment methods
Your payment information is processed securely. We do not store credit card details nor have access to your credit card information.
---
Security