Roll over image to zoom in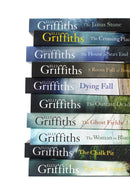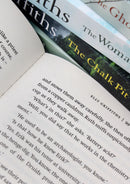 Titles In This Set :

The Dark Angel
Dr Ruth Galloway is flattered when she receives a letter from Italian archaeologist Dr Angelo Morelli, asking for her help. He's discovered a group of bones in a tiny hilltop village near Rome but doesn't know what to make of them. It's years since Ruth has had a holiday, and even a working holiday to Italy is very welcome!
So Ruth travels to Castello degli Angeli, accompanied by her daughter Kate and friend Shona. In the town she finds a baffling Roman mystery and a dark secret involving the war years and the Resistance. To her amazement she also soon finds Harry Nelson, with Cathbad in tow. But there is no time to overcome their mutual shock - the ancient bones spark a modern murder, and Ruth must discover what secrets there are in Castello degli Angeli that someone would kill to protect
The Chalk Pit
Meanwhile, DS Judy Johnson is investigating the disappearance of a local rough sleeper. The only trace of her is the rumour that she's gone 'underground'. This might be a figure of speech, but with the discovery of the bones and the stories both Ruth and the police have heard of a vast community of rough sleepers living in the old chalk-mining tunnels under Norwich, the clues point in only one direction. Local academic Martin Kellerman knows all about the tunnels and their history - but can his assertions of cannibalism and ritual killing possibly be true?
As the weather gets hotter, tensions rise. A local woman goes missing and the police are under attack. Ruth and Nelson must unravel the dark secrets of The Underground and discover just what gruesome secrets lurk at its heart - before it claims another victim.
The Woman In Blue
When Ruth's friend Cathbad sees a vision of the Virgin Mary, in a white gown and blue cloak, in Walsingham's graveyard, he takes it in his stride. Walsingham has strong connections to Mary, and Cathbad is a druid after all; visions come with the job. But when the body of a woman in a blue dressing-gown is found dead the next day in a nearby ditch, it is clear that a horrible crime has been committed, and DCI Nelson and his team are called in for what is now a murder investigation.
Ruth, a devout atheist, has managed to avoid Walsingham during her seventeen years in Norfolk. But then an old university friend asks to meet her in the village, and Ruth is amazed to discover that she is now a priest. She has been receiving vitriolic anonymous letters targeting women priests - letters containing references to local archaeology and a striking phrase about a woman 'clad in blue, weeping for the world'.
Then another woman is murdered - a priest. As Walsingham prepares for its annual Easter re-enactment of the Crucifixion, the race is on to unmask the killer before they strike again...
The Ghost Fields
When DCI Harry Nelson calls Ruth Galloway in to investigate a body found inside a buried fighter plane, she quickly realizes that the skeleton couldn't possibly be the pilot. DNA tests identify the man as Fred Blackstock, a local aristocrat who had been reported dead at sea.
Events are further complicated by a TV company that wants to make a film about Norfolk's deserted air force bases, the so-called Ghost Fields, which have been partially converted into a pig farm run by one of the younger remaining Blackstocks.
Then human bones are found on the farm and, as the greatest storm Norfolk has seen for decades brews in the distance, another Blackstock is attacked. Can the team outrace the rising flood to find the killer?
The Outcast Dead
Ruth has excavated a body from the grounds of Norwich Castle, which was once a prison. The body may be that of Victorian murderess Jemima Green. Called Mother Hook for her claw-like hand, Jemima was hanged for the murder of five children.
DCI Harry Nelson has no time for long-ago killers. Investigating the case of three infants found dead, one after the other, in their King's Lynn home, he's convinced that their mother is responsible.
Then a child goes missing. Could the abduction be linked to the long-dead Mother Hook? Ruth is pulled into the case, and back towards Nelson.
Dying Fall
Dr Ruth Galloway, forensic archaeologist, spends a lot of time looking at death. But now death has found her, with the news that her long-time friend and ex-colleague Dan Golding has been killed in a house fire.
Ruth's grief soon turns to suspicion of arson when she receives a desperate letter from Dan, sent the day before he died. He had made a ground-breaking discovery that he was sure would change archaeology forever - and was petrified of the consequences.
Ruth feels compelled to travel north to investigate further, alongside DCI Harry Nelson who is also drawn into the case. But where Ruth goes, so does her young daughter, Kate. This time, the risks are even higher.
A Room Full Of Bones
It is Halloween in King's Lynn, and forensic archaeologist Dr Ruth Galloway is attending a strange event at the local history museum - the opening of a coffin containing the bones of a medieval bishop. But then Ruth finds the body of the museum's curator lying beside the coffin.
Soon the museum's wealthy owner lies dead in his stables too. These two deaths could be from natural causes but DCI Harry Nelson isn't convinced, and it is only a matter of time before Ruth and Nelson cross paths once more.
When threatening letters come to light, events take an even more sinister turn. But as Ruth's friends become involved, where will her loyalties lie? As her convictions are tested, she and Nelson must discover how Aboriginal skulls, drug smuggling and the Aboriginal ritual of The Dreaming may hold the answer to these deaths - and be the key to their own survival.
The House At Sea's End
Dr Ruth Galloway is called in by a team of archaeologists investigating coastal erosion on the north Norfolk coast, when they unearth six bodies buried at the foot of a cliff. They seem to have been there a very long time. Ruth must help discover how long, and how on earth they got there.
Ruth and DCI Nelson are drawn together once more to unravel the past. Tests reveal that the bodies have lain, preserved in the sand, for sixty years. The mystery of their deaths stretches back to the Second World War, a time when Great Britain was threatened by invasion.
Ruth thought she knew the history of Norfolk - she's about to find out just how wrong she was, and how far someone will go to keep their secrets buried.
The Janus Stone
Dr Ruth Galloway's forensic skills are called upon when builders, demolishing an old house in Norwich, uncover the bones of a child - minus the skull - beneath a doorway. Is it some ritual sacrifice or just plain straightforward murder? Ruth links up with DCI Harry Nelson to investigate.
The house was once a children's home. Nelson traces the Catholic priest who used to run the place. He tells him that two children did go missing forty years before - a boy and a girl. They were never found.
When carbon dating proves that the child's bones predate the home and relate to a time when the house was privately owned, Ruth is drawn ever more deeply into the case. But as spring turns into summer it becomes clear that someone is desperate to put her off the scent by frightening her to death...
The Crossing Places
Dr Ruth Galloway is called in when a child's bones are discovered near the site of a pre-historic henge on the north Norfolk salt marshes. Are they the remains of a local girl who disappeared ten years earlier - or are the bones much older?
DCI Harry Nelson refuses to give up the hunt for the missing girl. Since she vanished, someone has been sending him bizarre anonymous notes about ritual sacrifice, quoting Shakespeare and the Bible. He knows that Ruth's expertise and experience could help him finally to put this case to rest.
But when a second child goes missing, Ruth finds herself in danger from a killer who knows she's getting ever closer to the truth...
Payment & Security
Payment methods
Your payment information is processed securely. We do not store credit card details nor have access to your credit card information.
---
Security