Roll over image to zoom in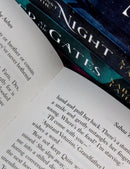 Titles In This Set:
An Ember in the Ashes
A Torch Against the Night
A Reaper at the Gates
A Sky Beyond the Storm

An Ember in the Ashes:
Under the Martial Empire, defiance is met with death. When Laia's grandparents are brutally murdered and her brother arrested for treason by the empire, the only people she has left to turn to are the rebels. But in exchange for their help in saving her brother, they demand that Laia spy on the ruthless Commandant of Blackcliff, the Empire's greatest military academy.

A Torch Against the Night:
After the events of the Fourth Trial, Martial soldiers hunt Elias and Laia as they flee the city of Serra. Laia and Elias are determined to break into the Empire's most secure and dangerous prison to save Laia's brother, even if for Elias it means giving up his last chance at freedom.

A Reaper at the Gates:
Beyond the Empire and within it, the threat of war looms ever larger. The Blood Shrike, Helene Aquilla, is assailed on all sides. Emperor Marcus, haunted by his past, grows increasingly unstable, while the Commandant capitalizes on his madness to bolster her own power.

A Sky Beyond the Storm:
The long-imprisoned jinn are on the attack, wreaking bloody havoc in villages and cities alike. But for the Nightbringer, vengeance on his human foes is just the beginning. At his side, Commandant Keris Veturia declares herself Empress, and calls for the heads of any and all who defy her rule. At the top of the list? The Blood Shrike and her remaining family.
Payment & Security
Payment methods
Your payment information is processed securely. We do not store credit card details nor have access to your credit card information.
---
Security