Roll over image to zoom in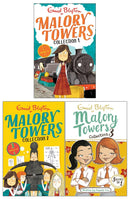 Collection 1:
First Term
Darrell Rivers is thrilled to start her first term at boarding school. She soon makes friends - and mischief! Another new girl, Gwendoline is beginning to get on everyone's nerves. Will Darrell be able to keep her fiery temper under control?
Second Form
Darrell Rivers is excited to be going into her second year at Malory Towers - but is she ready for the drama it will bring? Jealousy flares when a new head of the form is chosen, and the girls become suspicious when their belongings go missing. And why on earth has timid Mary-Lou ventured out during a terrible storm?
Third Year
This term, the girls get a surprise when Darrell Rivers returns to Malory Towers with a glamorous new girl in tow. Zerelda soon catches everyone's eye for all the wrong reasons! Meanwhile, Bill is causing a stir with her horse-mad ways - and there's a big shock in store for Darrell . . .
Collection 2:
Upper Fourth
Darrell Rivers is Head Girl of her class and her sister Felicity has joined Malory Towers. It looks set to be a wonderful term until Felicity makes friends with young trouble-maker June. With twins Connie and Ruth causing problems in their form too, Darrell's first term in charge is a big challenge . . .
In the Fifth
Now that Darrell Rivers and her friends are fifth-formers, it's their turn to produce the school play. There is plenty of talent on show but everyone has their own ideas and competition for the starring role is fierce. Can the girls overcome their quarrels so that no one is upstaged?
Last Term
Darrell Rivers is Head Girl of Malory Towers and there is plenty to keep her busy. Amanda is prepared to risk everything to be chosen to swim in the Olympics and spoilt Gwendoline is up to her usual tricks. Can Darrell stop Gwendoline from ruining their final term before it's time to wave goodbye?
Collection 3:
New Term
Darrell has left Malory Towers and her sister Felicity takes over as head girl. But the other girls are determined to cause trouble. Will Freddie and June ever stop playing tricks? And what's Amy's strange family secret?
Summer Term
Someone has stolen Julie's horse. And there's money missing too. Can Felicity and the girls find out who would do such a terrible thing?
Winter Term
Susan's in charge of the winter concert, but new teacher, Miss Tallant, won't let her make any decisions. When Miss interferes in a midnight feast, the girls realise that there's a spy in their midst.
Payment & Security
Payment methods
Your payment information is processed securely. We do not store credit card details nor have access to your credit card information.
---
Security