Roll over image to zoom in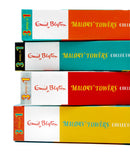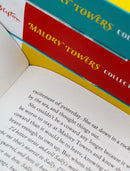 Titles In this Set:
Collection 1 (1-3)
Collection 2 (4-6)
Collection 3 (7-9)
Collection 4 (10-12)

Collection 1 (1-3)
First Term
Darrell Rivers is thrilled to start her first term at boarding school. She soon makes friends - and mischief! Another new girl, Gwendoline is beginning to get on everyone's nerves. Will Darrell be able to keep her fiery temper under control?

Second Form
Darrell Rivers is excited to be going into her second year at Malory Towers - but is she ready for the drama it will bring? Jealousy flares when a new head of the form is chosen, and the girls become suspicious when their belongings go missing. And why on earth has timid Mary-Lou ventured out during a terrible storm?

Third Year
This term, the girls get a surprise when Darrell Rivers returns to Malory Towers with a glamorous new girl in tow. Zerelda soon catches everyone's eye for all the wrong reasons! Meanwhile, Bill is causing a stir with her horse-mad ways - and there's a big shock in store for Darrell . 
Collection 2 (4-6)
Upper Fourth
Darrell Rivers is Head Girl of her class and her sister Felicity has joined Malory Towers. It looks set to be a wonderful term until Felicity makes friends with young trouble-maker June. With twins Connie and Ruth causing problems in their form too, Darrell's first term in charge is a big challenge . . .

In the Fifth
Now that Darrell Rivers and her friends are fifth-formers, it's their turn to produce the school play. There is plenty of talent on show but everyone has their own ideas and competition for the starring role is fierce. Can the girls overcome their quarrels so that no one is upstaged?

Last Term
Darrell Rivers is Head Girl of Malory Towers and there is plenty to keep her busy. Amanda is prepared to risk everything to be chosen to swim in the Olympics and spoilt Gwendoline is up to her usual tricks. Can Darrell stop Gwendoline from ruining their final term before it's time to wave goodbye?

Collection 3 (7-9)
New Term
Felicity Rivers is excited to be Head Girl of the third form and there are three new girls to help settle in this term. But Felicity's in for a shock when someone starts playing spiteful tricks. The girls suspect an old enemy is to blame. How will they find out for sure?

Summer Term
Summer at Malory Towers means picnics, swimming and horse-riding. There are also the usual tricks to play and secrets to keep, but no one was expecting a mystery to solve. So when a horse is stolen from the riding school run by old girls Bill and Clarissa, all the third-formers want to help. Who could the culprit be?

Winter Term
This term the fourth-formers are busy planning for the school Christmas concert, but that doesn't stop them plotting tricks too! Susan is supposed to be in charge of the play but bossy Sylvia wants to take over, and new teacher Miss Tallant seems surprisingly knowledgable about all of their plans. Could there be a spy in their midst?

Collection 4 (10-12)
Fun and Games
It's competition time at Malory Towers and this term there's a tennis tournament and a music prize to be won! Tensions are running high, with games captain June and orchestra leader Millicent willing to do anything to succeed. But the girls have more to worry about when belongings start disappearing from dorms . . .

Secrets
Mischievous Daffy loves playing tricks, but when she goes too far, there are a few surprises in store . . . Meanwhile, there's something familiar about new pupil Alice. The girls are certain they've met her before - could she be hiding a secret?

Goodbye
Head Girl Felicity Rivers can hardly believe it's nearly time to leave her beloved school. The sixth-formers are hoping for a restful final term but headmistress Miss Grayling has other ideas - and so does an old pupil who makes a surprising return. It is not a great success. Can Felicity solve the problem, with some help from a few other familiar faces?

Payment & Security
Payment methods
Your payment information is processed securely. We do not store credit card details nor have access to your credit card information.
---
Security