Roll over image to zoom in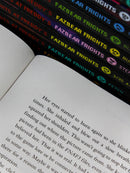 Titles:
Into the Pit
Fetch
1:35AM
Step Closer
Bunny Call
Blackbird
The Cliffs
Gumdrop Angel
The Puppet Carver
Friendly Face
Prankster
Felix the Shark


Into the Pit
Oswald wishes his summer wasn't so boring, Sarah wishes to be beautiful, and Millie wishes she could just disappear from the face of the earth. But in the twisted world of Five Nights at Freddy's, their hearts' deepest desires have an unexpected cost.
Fetch
Greg decides to put the controversial science he's been studying to the test. Alec launches a master plot to expose his golden sister for the spoiled brat he knows she is. And Oscar, ever the miniature grown-up his mom needs him to be, decides to take something he wants … even though he knows it's wrong. But as these three will learn, control is a fragile thing in the sinister world of Five Nights at Freddy's.
1:35AM
Delilah escapes deeper into her dreams each night, in desperate need of a wake-up call. Stanley is newly dumped, stuck in a dead-end job for a mysterious employer, and unable to connect with anyone. And Devon, abandoned by his dad and ignored by his mom, can't understand why love and friendship come so easily to everyone except him. Unfortunately, in the callous world of Five Nights at Freddy's, it's always in the depths of loneliness that evil creeps in.
Step Closer
Isolation can open up a void. Pete lashes out at his younger brother in the wake of his parents' divorce, falling prey to a gruesome curse. Kasey struggles with the lengths she'll go to survive on the streets after stealing a pair of unusual novelty glasses. Samantha and her sister, Susie, struggle to exist side by side, desperate to connect after a horrific tragedy. But in the grim world of Five Nights at Freddy's, empty feelings often attract hungry monsters…

Bunny Call
When left in darkness, rage festers. Years of frustration with his family culminate in a loathsome vacation for Bob, who plots a sinister prank to frighten his wife and kids. Matt redirects the residual anger over his many failed relationships into a video game, and ends up birthing the horrible consequences. In room 1280 of Heracles Hospital, something evil is keeping a man alive, a man with gruesome burns all over his body and an iron will to live.

Blackbird
Haunted by the past… To avoid confronting an ugly truth, Nole falls prey to a monster that punishes past transgressions. Growing weaker by the day, nine-year-old Jake looks back on the time before he was sick, imagining life as if he were well again. And, forever desperate to prove his worth to his arrogant brother and distant father, Toby chases victory at an arcade game with horrifying consequences. But in the unpredictable world of Five Nights at Freddy's, sometimes the past can take on a life of its own.

The Cliffs
Some things must be learned the hard way … Reed sees an opportunity to teach the school bully not to mess with him, but ends up mangling the lesson. Robert, an exhausted single father, gets a crash course in parenting when he buys a fancy new teddy bear to watch and entertain his young son. Chris, eager to join the Science Club at school, agrees to undergo a grisly experiment to be accepted. But in the malevolent universe of Five Nights at Freddy's, there's always an education in pain.

Gumdrop Angel
A string of bad luck you can't seem to shake … for Angel, Hudson and Sergio, it's an all too familiar feeling.
Repulsed by her spoiled stepsister's lavish birthday party, Angel exacts a hasty and ill-fated revenge. Hudson's young life is littered with tragedy and broken dreams, but a well-paying security job might just be all he needs to turn things around. Sergio acquires a unique novelty toy that instantly brings good luck, but is the toy really leading him to happiness … or to a more monstrous end?

The Puppet Carver
Consumed by failure... Desperate to keep his kiddie pizzeria from bankruptcy, Jack lets his animatronics tech pitch him a new invention that might just give him some perspective. Frustrated by an unfair arcade game, Colton throws himself into re-engineering the device at any cost. Marley's best friend goes missing on a tour of the Freddy's Pizza Factory; she knows what really happened … but her guilt isn't the only thing threatening to eat her alive.

Friendly Face
Act in haste, repent at leisure... After losing his friend in a terrible accident, Andrew can't spend his money fast enough on a happy companion guaranteed to keep his friend's memory alive. Mott quickly flushes his brother's creepy new pets, but the creatures have other plans. Eager to put her classmates in their place, Homecoming Queen Jessica doesn't stop to double-check her homework … reprogramming a defunct animatronic.

Prankster
Standing up for yourself can be hard… Jeremiah decides he's done being the butt of his coworker's jokes at their small game studio. Joel is counting the days until he can quit his family's garden centre and hit the road to a new life. Aimee finally works up the courage to ditch her loud-mouthed, annoying friend at Freddy Fazbear's Pizza. But when it comes to Five Nights at Freddy's, even the most well-meaning actions can reap horrible consequences.

Felix the Shark
A dark bridge to the past . . . Dirk sets out on a long-shot quest to recapture a cherished childhood memory from a unique animatronic pizzeria. Mandy finds something lurking in the files of her favorite horror game and opens herself up to a haunting. In light of her son's fascination with Freddy Fazbear's Pizza, Sylvia buys her son a unique birthday present—a Freddy Fazbear mask that's the genuine article . . . in more ways than one.

Payment & Security
Payment methods
Your payment information is processed securely. We do not store credit card details nor have access to your credit card information.
---
Security