Roll over image to zoom in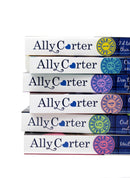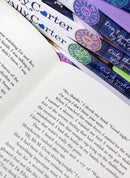 Titles in This Set
I'd Tell You I Love You, But Then I'd Have to Kill You
Cross My Heart and Hope to Spy
Don't Judge a Girl by Her Cover
Only The Good Spy Young
Out of Sight, Out of Time
United we Spy
I'd Tell You I Love You, But Then I'd Have to Kill You
Gallagher Academy might claim to be a school for geniuses - but it's really a school for spies. Cammie Morgan is fluent in fourteen languages and capable of killing a man in seven different ways (three of which involve a piece of uncooked spaghetti).
Cross My Heart and Hope to Spy
There I was: Cammie the Chameleon--the Gallagher Girl who had risked the most sacred sisterhood in the history of espionage. For a boy.
Don't Judge a Girl by Her Cover
Here's the thing about covert operations: the really bad things always happen when you least expect them. The enemies don't give you a heads-up. And they never let you stop to put on comfortable shoes. A spy-in-training, Cammie Morgan has a cover for every occasion.
Only The Good Spy Young
I thought I was prepared for most scary situations. I've been almost kidnapped twice, fake kidnapped once, targeted by one terrorist organization and two very cute boys. But this moment was truly terrifying...Cammie 'The Chameleon' knows by now that even she can't hide from danger.
Out of Sight, Out of Time
Normal. I liked the sound of that. Sure, as the daughter of two secret agents, I didn't really know what normal meant, but that didn't matter. Normal was my new mission. Cammie wakes up in an Alpine convent having lost her memory of the whole summer.
United we Spy
The sixth book in the Gallagher Girls series leads Cammie and her spy school friends to another wildly entertaining mission. With new assignments to tail and capture, the final book in the globally bestselling series results in an explosive
Payment & Security
Payment methods
Your payment information is processed securely. We do not store credit card details nor have access to your credit card information.
---
Security